When we think of the hardware and devices in our homes that keep us connected to the world, many don't put a lot of thought into the backbone of our home networks. We could even go as far as to say that many of us suffer with subpar modems and routers provided by our ISPs. And for many, this works quite well, but when you begin to push into online gaming and streaming, you realize it's time for a complete network overhaul.
So, where do you buy in? Is it necessary to purchase a top-end router that, in many cases, can cost upwards of $600 with all the bells and whistles, or can we find more cost-effective solutions that offer similar benefits and perhaps even boost our Wi-Fi networks with increased coverage within the home? Let's discuss this.
Benefits of Wi-Fi 6
Wi-Fi 6 gets its name as it is the sixth generation of consumer Wi-Fi networks, it is also called 802.11AX, and it is part of the two most recent updates to the IEEE network standard. Wi-Fi 6 uses the same two carrier frequencies as the previous Wi-Fi 5 standard, giving us dual-band solutions utilizing the 2.4GHz and 5GHz bands. Wi-Fi 6e adds to this with a third 6GHz band.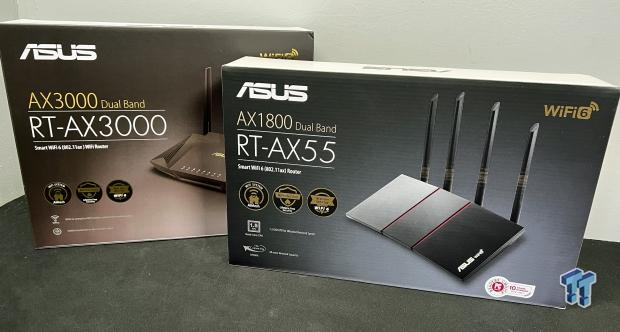 With Wi-Fi 6, performance has been increased substantially, thanks to improvements within MIMO and the introduction of OFDMA, offering lower latency connections while increasing efficiency with more downstream and upstream connections. Wi-Fi 6 also pushes individual client target wake times to provide devices with longer battery life through lower power usage.
Wi-Fi 6 and even 6e offer increased security through mandatory support for WPA3 certification, which improves connection security.
Mesh vs. Extenders
Wireless Extenders were, for the longest time, the only legitimate way to "extend" your wireless network past the coverage available from your standalone router. These devices were often cumbersome to set up as the extender would typically have its own interface you used to connect to your router and manage. Extenders often created their own network, adding additional congestion within the home, often overlapping or sitting on the same Wi-Fi channels.
Mesh routers or extendable routers, on the other hand, offer multiple access points that all talk to each other and can forward traffic around the network. In addition, mesh nodes share the same SSID, allowing your devices to roam effortlessly through your home without losing signal and throughput.
ASUS Ai Mesh
Routers have been an integral part of my life for well over a decade, and it has only been within the last six years that "Mesh" networking has become the preferred method for increasing the range and throughput of our many connected devices when dealing with large homes or multi-floor dwellings. With that, are canned mesh systems from the many vendors on the market the most cost-effective solution, or is there another way?
AiMesh is a unique feature of ASUS routers that allows consumers to create their very own "mesh" network, virtually extending both the range and throughput to nearby devices. Taking this further, AiMesh isn't limited to a specific market segment in the ASUS lineup. And there isn't a paywall past the hardware cost, which includes Wi-Fi 5 and Wi-Fi 6 solutions, as you can mix and match hardware to create your own custom network with AiMesh. That said, ASUS offers the ZenWiFi lineup that offers multiple nodes pre-synced out of the box.
With that, consumers that bought into an ASUS platform in previous years with a Wi-Fi 5 router like the AC68U or AC86U can also use their existing router as the base or as a node if they choose to upgrade their master router to a newer Wi-Fi 6 solution.
How hard is AiMesh to set up?
One of the more significant concerns I see from readers and even family members when I mention a "mesh" network is the time and attention needed to set up and manage this type of solution. Luckily for you, I have a few affordable mid-range extendable router solutions in-house from ASUS, namely the RT-AX3000 ($99 on Amazon at the time of writing) and RT-AX55 ($89 on Amazon at the time of writing), that we can run through just how easy it is to set up and even manage an AiMesh network.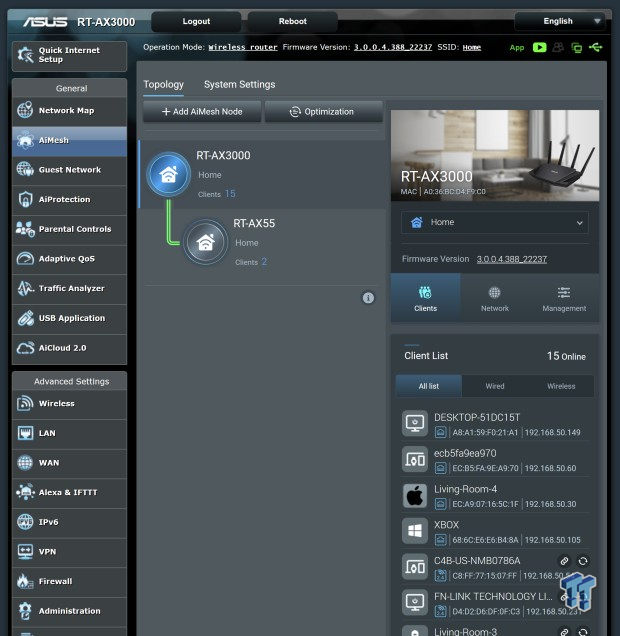 To initiate the AiMesh setup, navigate to the AiMesh tab within your master router GUI. Typically, this can be found by entering 192.168.50.1 into your browser's address bar. After selecting AiMesh, this gets us to the image above if you are on the latest firmware. From here, it's important to have the router you want to use as the mesh node powered up and ready to go. We then click add AiMesh node.

That will push us to the screen above, where we search for the node, and if everything is ready to go, it should show us the node we want to add.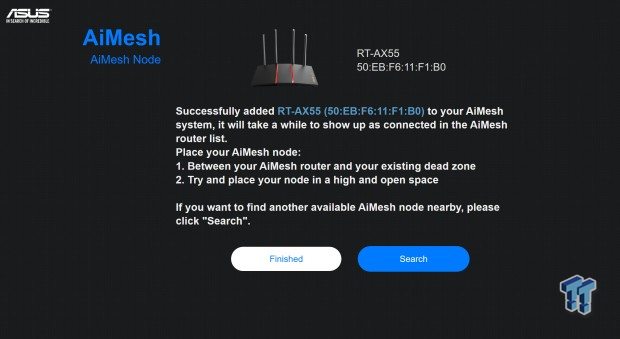 After your node has been added, ASUS offers a few instructions for placing your node.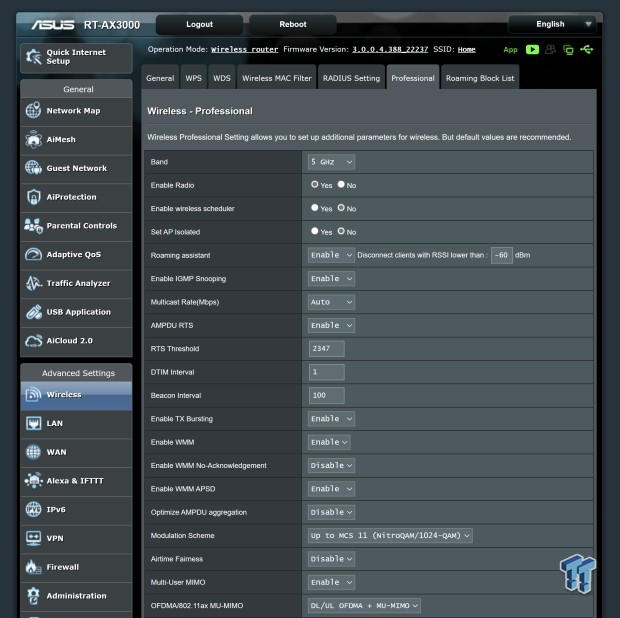 This step can be ignored as it's more of a fine-tuning action for your now completed AiMesh, aiding in a better "hand-off" between nodes. By default, ASUS uses an RSSI of -70 to decide when to drop a client because of signal. If we fine-tune this to your network, the master router will drop the devices moving within your network quicker, allowing your device, whether a laptop or phone, to connect to the closest AiMesh node offering you a better connection and throughput for your given location.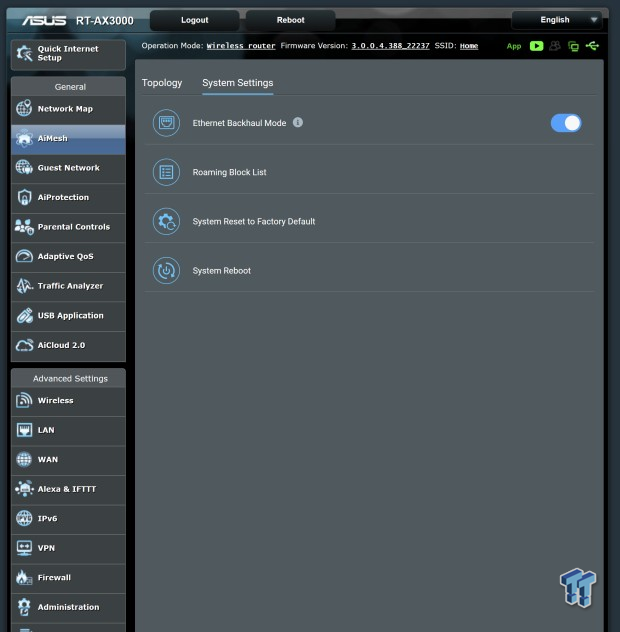 Within this AiMesh system you have now set up, we can further the available throughput on the 5GHz band by moving the backhaul to ethernet. This certainly takes more effort, as you will need a run of CAT5e between the master router and any AiMesh nodes you add. That said, the setup is simple: connecting one end of this cable to an available switch port on the main router and the WAN port on the AiMesh node. From there, we can jump back into the GUI and go to the system setting within the AiMesh tab to enable ethernet backhaul.
Security Features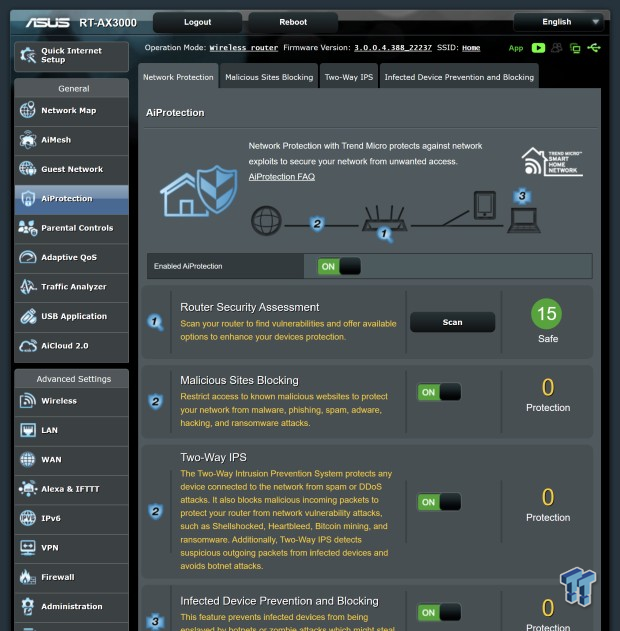 Security is of utmost importance when browsing online, with the constant need to protect your data growing daily. Those choosing to build their own AiMesh system for their home network can rest assured ASUS has their back with Ai Protection. This innovative suite starts by checking your hardware for security flaws like basic passwords, wireless encryption and then looking at open ports.
ASUS uses this data and alerts you to any needed changes, then directs you to where they can be changed. Further AiMesh platforms can block malicious websites and offer two-way intrusion prevention that can detect network vulnerabilities like the Heartbleed or shellshocked attacks.
Finishing Up
The ASUS RT-AX3000 ($99 on Amazon at the time of writing) and ASUS RT-AX55 ($89 on Amazon at the time of writing) extendable Wi-Fi 6 routers are great affordable options to consider when building your wireless network.
Often cheaper than other options on the market, both offer a maximum range of 3000 square feet, 575 Mbps on the 2.4GHz band, ASUS Router App for iOS and Android devices, AiProtection for peace of mind, and of course AiMesh technology allowing you to improve wireless range and performance in your home or office.