Introduction & Drive Details
As of late PCIe Gen5 SSDs have been flooding into the TT Lab. Our first arrival, the SSTC Tiger Shark lit up our charts, as did the second, the inland TD510 2TB as well the third AORUS Gen5 10000. To date, all of these PCIe Gen5 offerings sport the same hardware configuration, being Phison E26 controlled and arrayed with Micron 1,600MT 232-Layer TLC flash.
Having already tested this hardware configuration repeatedly, we know that at this moment in time, it does offer by far the highest performance and best gaming experience of any flash-based consumer SSD. So, what we have in the lab for a Preview today should expand on the performance superiority we've observed coming from Phison E26-controlled SSDs.
The first wave of Micron's revolutionary 232-Layer B58R flash has redefined performance that matters through its architectural superiority as outlined here: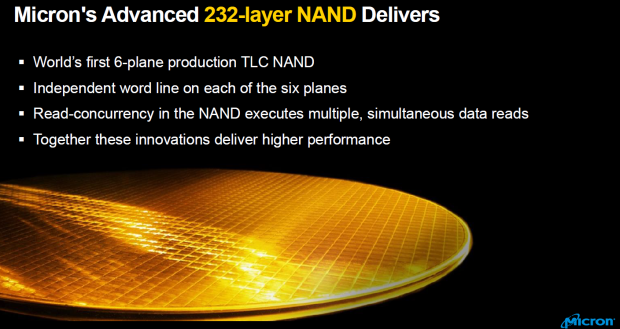 We got our first taste of this revolutionary flashback in December of last year when we reviewed the 1TB Micron 2550 SSD. This little PCIe Gen4, 4-channel DRAMless SSD clearly demonstrated the architectural superiority of Micron's 232-Layer 1,600MT flash, by not only outperforming any SSD of its type ever made, but by even outperforming 95% of all 8-channel, 7,400 MBs capable SSDs ever made. To this day, it remains the single most impressive performance we've ever witnessed.
So, we know that Micron's 232-Layer flash is currently the best-performing flash we've ever come across, and that's even when running in its slowest mode, 1,600 MT, which is not even the fastest speed flash currently adorning consumer SSDs. We know that 232-Layer Micron is capable of running at speeds of up to 2,400MT, or 50% faster than what has been in circulation to this point.
Until today, all PCIe Gen5 SSDs being arrayed with 1,600MT flash have been limited by the speed of the flash to 10,000 MBs throughput, even though Phison's E26 controller is capable of enabling up to 14,000 MBs throughput as shown here: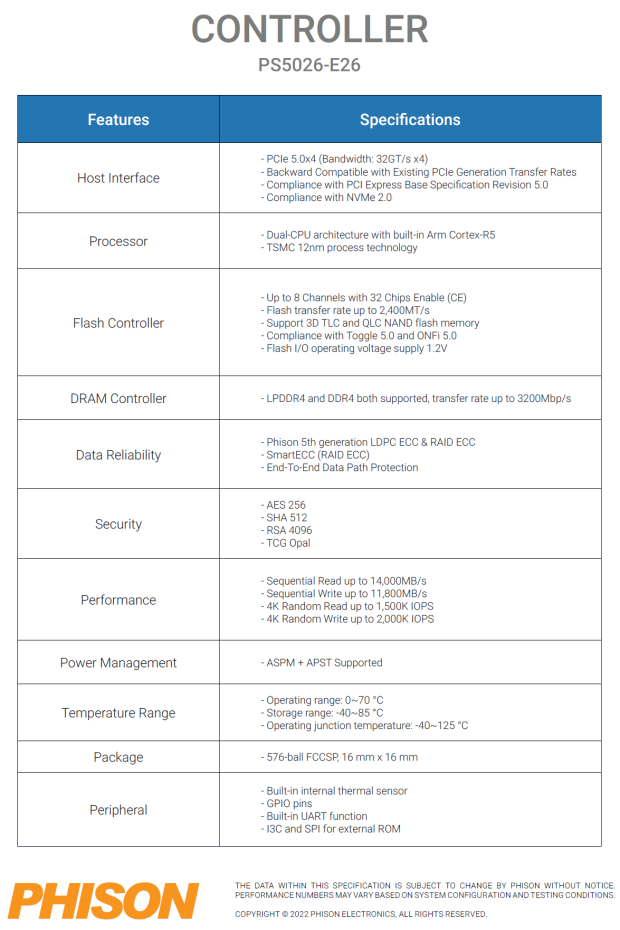 That is 40% more than what we've seen to this point. Well, today that changes, with Crucial's 2,000MT 232-Layer arrayed 12,400 MBs capable T700's impending retail release. The T700 delivers a full 20% more throughput than anything we've experienced to date. Now true, this is not 14,000 MBs and this is not 2,400MT flash. However, in this case, it's not the 2000MT speed of the flash that's holding back E26-controlled SSDs from achieving 14K MBs, it's an issue of wattage. Motherboard M.2 slots supply roughly 11-watts which is currently not enough to power 14,000 MBs via Phison's E26. Phison will get there eventually, but not for a while.
So here we are with the world's first 12,000 MBs capable flash-based consumer SSD. This drive is configured the same as all PCIe Gen5 SSDs we've tested to this point, in that it is Phison E26 controlled and arrayed with Micron 232L B58R flash. The difference here is Crucial's T700 is arrayed with 25% higher speed flash than previous Gen5 SSDs. This results in 20% more throughput within the current motherboard M.2 wattage limitations.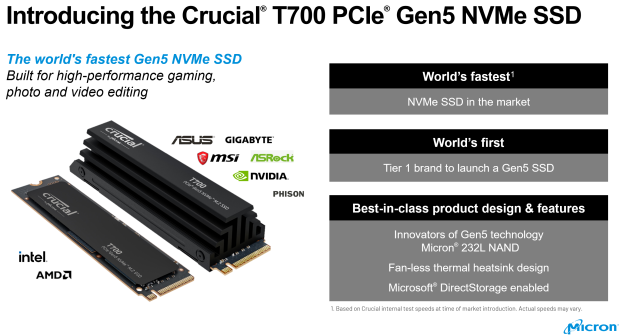 The T700 will retail in 2 variations; with heatsink and without heatsink. We like this approach because what this indicates to us is the non-heatsink model will be a lower-cost option. Excellent. The variation with heatsink is perfect for those who have motherboards with Gen5 M.2 slots that do not have adequately sized or engineered integrated cooling solutions.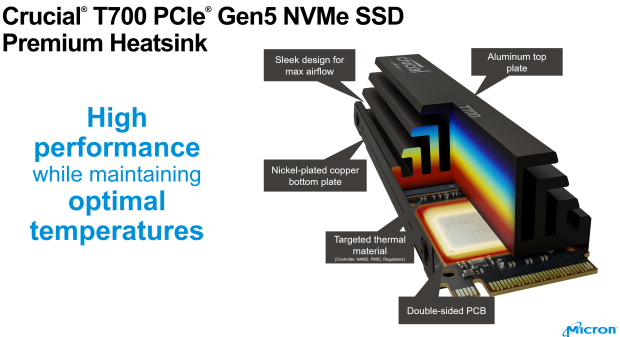 We like what Crucial has done, in that the T700's factory heatsink is a passive cooler and that it is fairly conventional in shape and size. Most of all, we like how effective it has proven to be during our testing, keeping the world's fastest SSD running throttle free even during demanding workloads involving hundreds of gigabytes of data.
Lastly and worthy of mention here is the fact that all E26 controlled SSDs come with Phison's exclusive I/O+ DirectStorage optimized technology baked right in. Gamers take note because this matters if you are into future-proofing.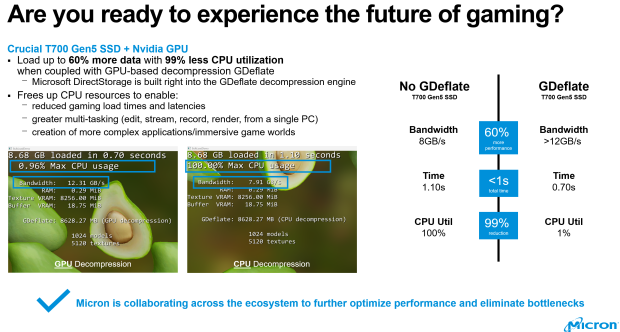 Load up to 60% more data with 99% less CPU utilization? Amazing and easy to see why DirectStorage is being heralded as groundbreaking technology.
While we haven't published anything to quantify what Phison's I/O+ technology does for a DirectStorage gaming experience, we can tell you that we notice a massive improvement over non-Phison-controlled SSDs when running the new DirectStorage-enabled game Forespoken. Non-Phison SSDs incur stuttering, and some assets even pop in late. Phison SSDs with Gaming I/O+ technology baked in are smooth as silk. It's something that's almost impossible to quantify with data but is easily apparent to the end-user.
Drive Details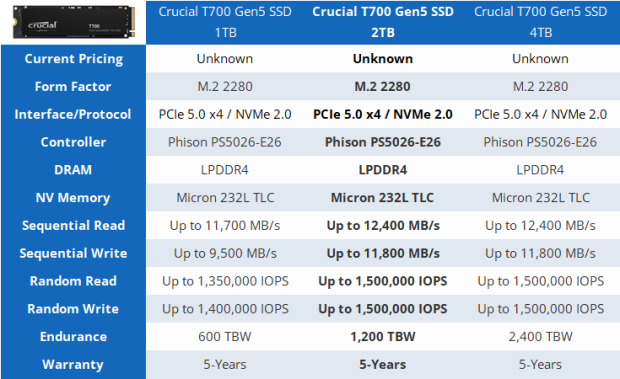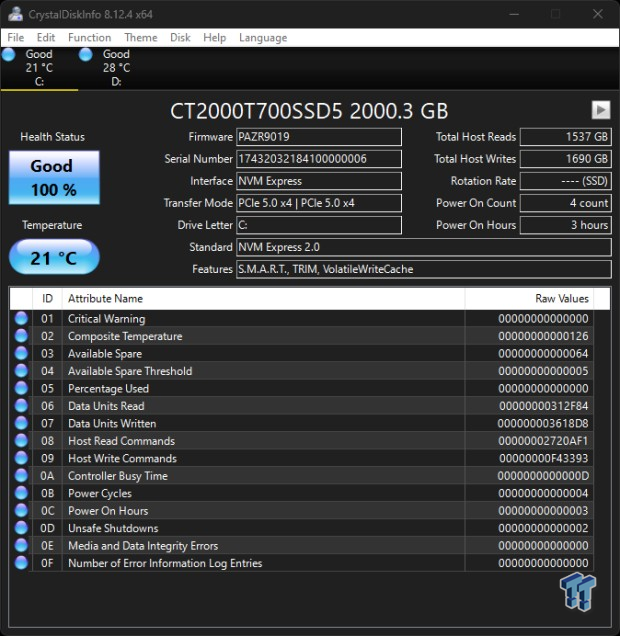 As you can see, this is an engineering sample. Crucial stated that they are refining the T700's firmware a bit more for the retail launch coming sometime soon so there is a possibility that performance will be even higher than what we are previewing for you today.
Jon's Test System Specifications
Intel Test System
AMD Test System
Because we at TweakTown like to be first at everything whenever we can, we are going to present our storage performance results for the test subject on both 13th Gen Intel and 7000 Series AMD platforms going forward for the foreseeable future. Because Intel still delivers the best real-world storage performance, (Look Here), our running chart will continue to be Intel-based until AMD can deliver better real-world storage performance than its rival.
Synthetic Benchmarks: CDM, Anvil, ATTO
CrystalDiskMark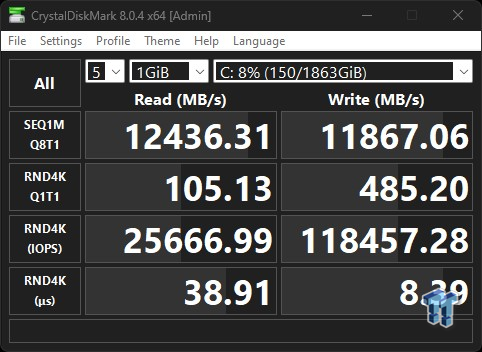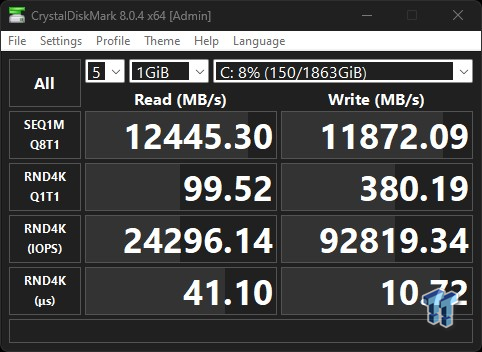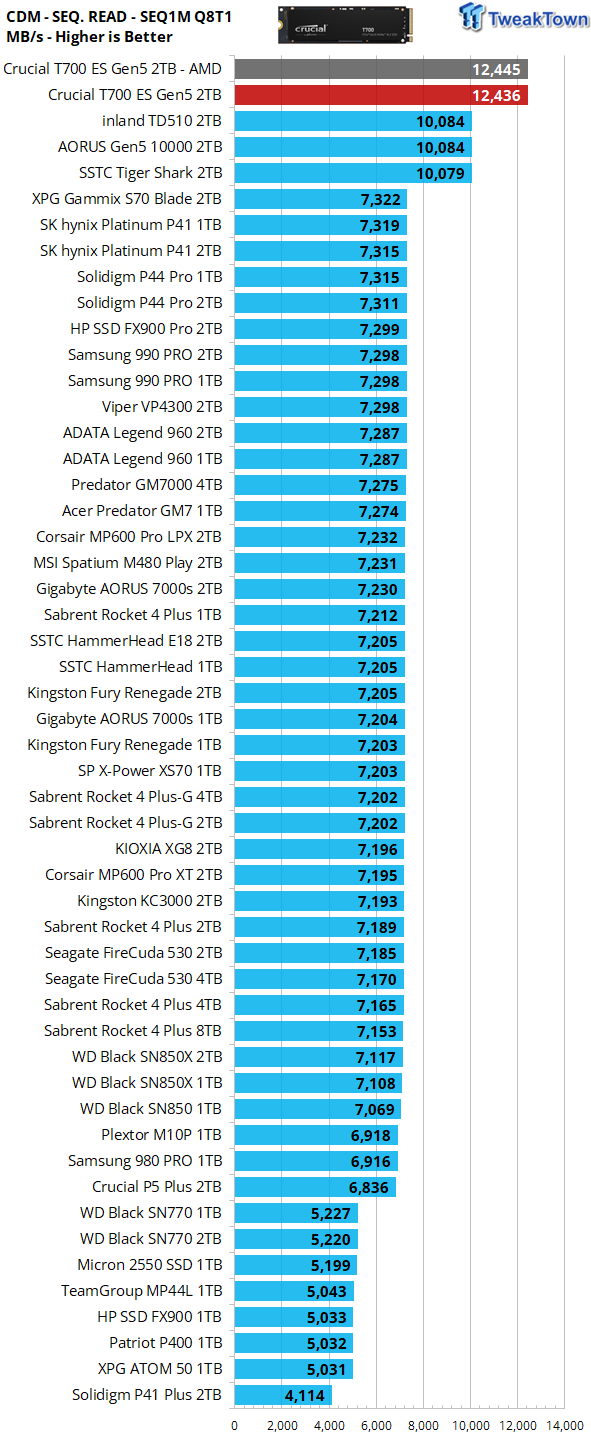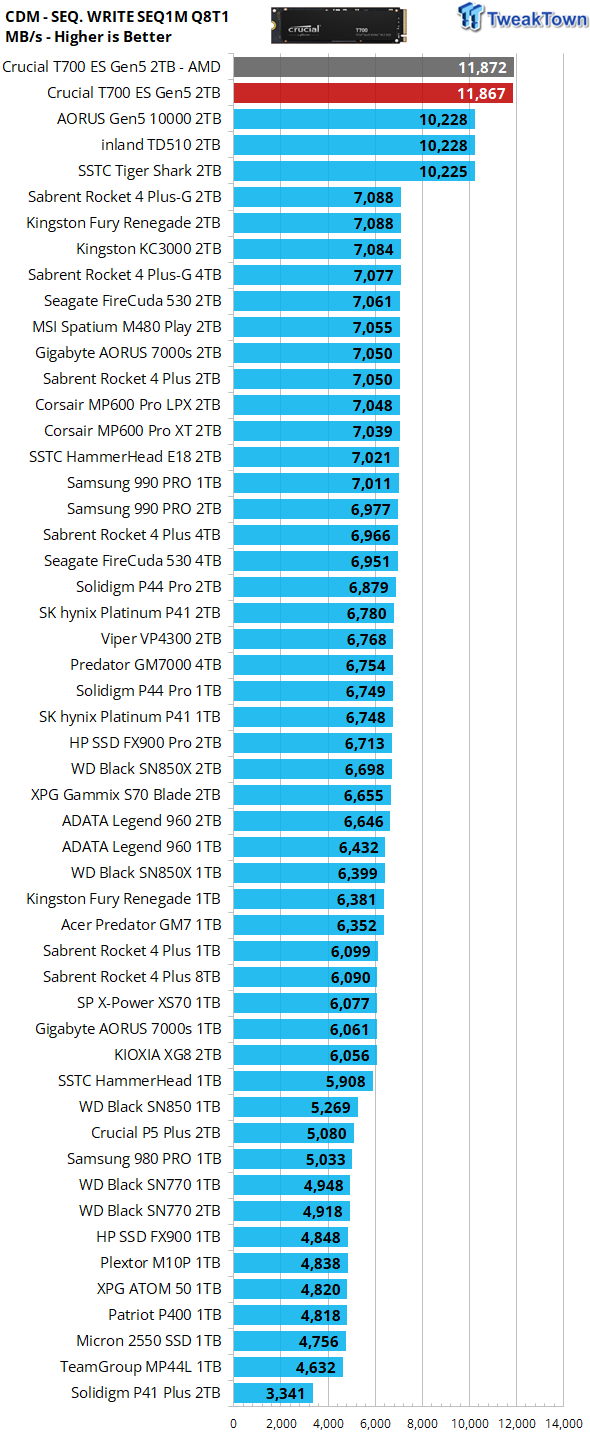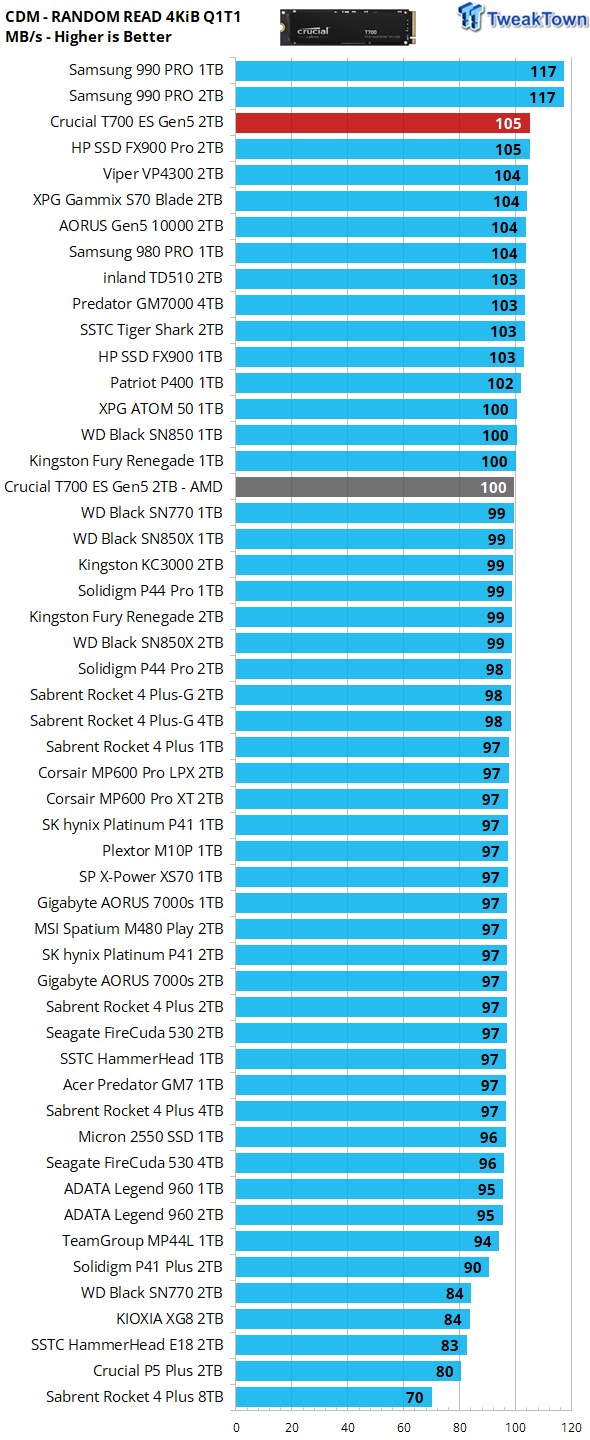 We employ CDM as our standard measurement for both sequential throughput and Q1T1 random read. Crucial spec's its T700 as capable of up to 12,400 MBs sequential read and 11,800 MBs sequential write. This incredible throughput is spot on, as evidenced by both our platforms hitting these exact numbers even when running in our more demanding user state. QD1 random read is exceptional, being the second-best we've recorded to date. Even on the AMD side of the aisle, 100 MBs is again exceptional.
Anvil's Storage Utilities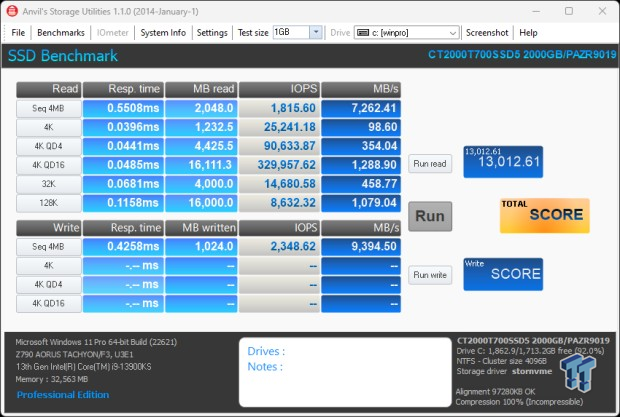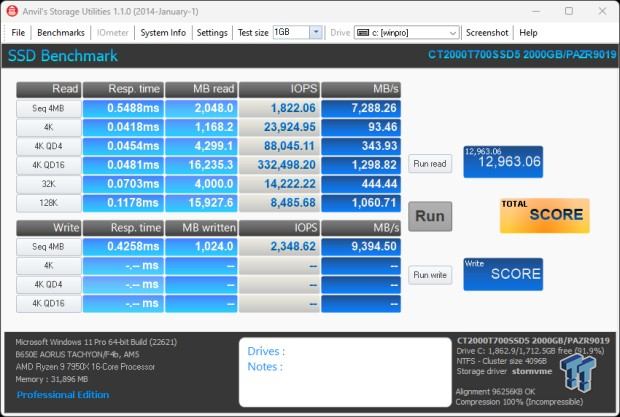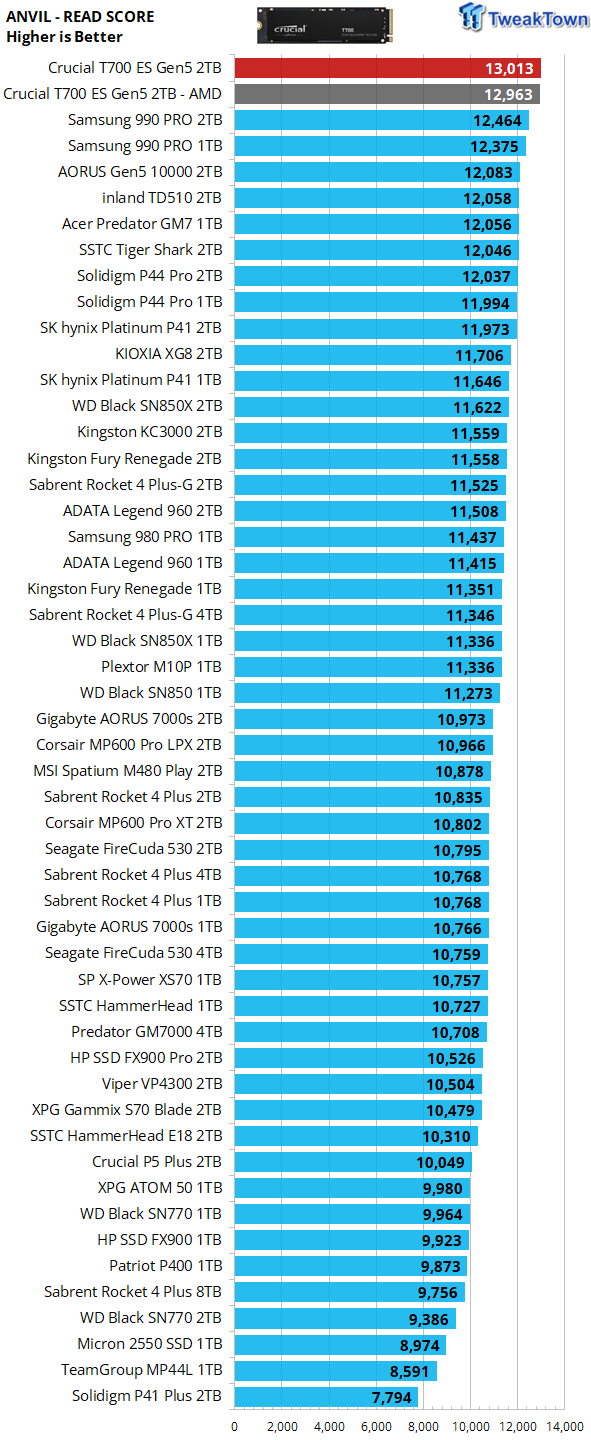 We consider 12K here exceptional, and it's just about what we've been getting from previous Gen5 SSDs. So 13K here is definitely head-turning. Finally, something is able to vanquish the 990 Pro. Outstanding.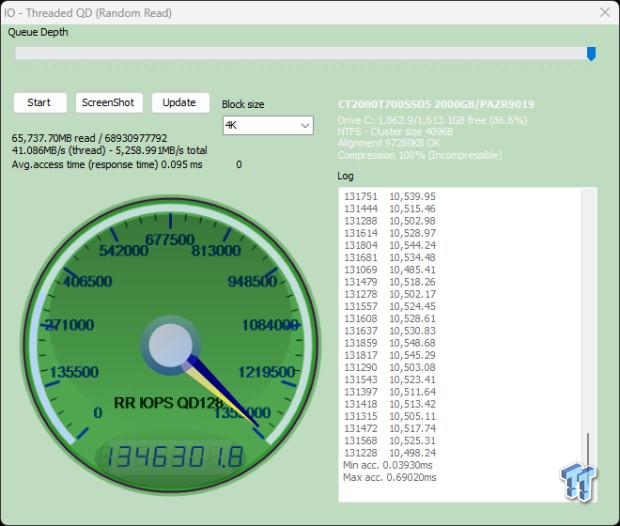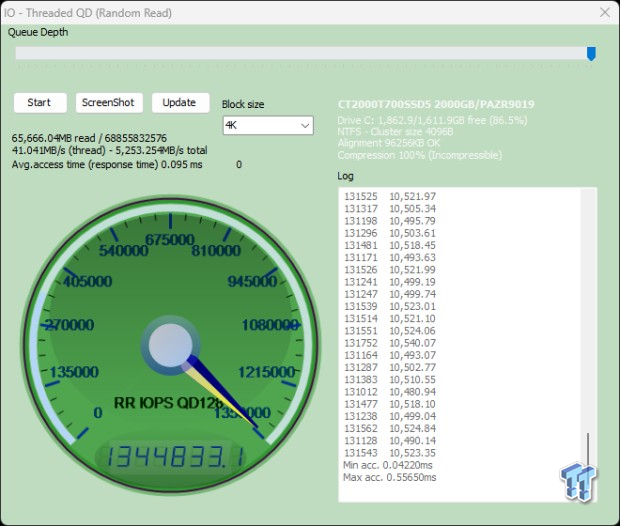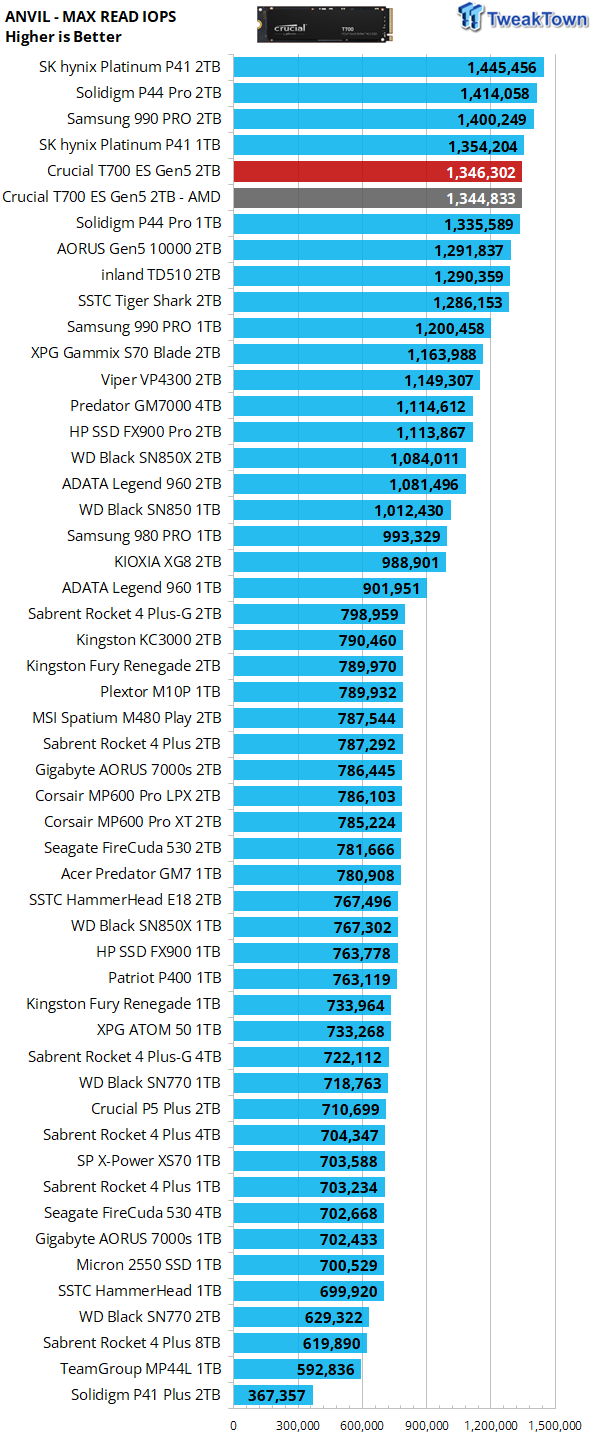 We employ Anvil's random read test as our standard for measuring max random read IOPS. This test is very accurate as it at its core is Iometer skinned over. We test at QD128. We come up a bit short of the drive's quoted up to specs being 1.5 million RR IOPS. That said, 1.35 million IOPS here is more than satisfactory considering our more demanding user state.
ATTO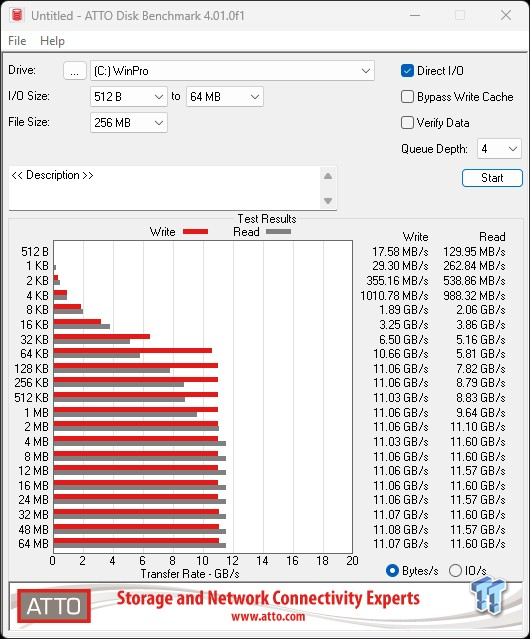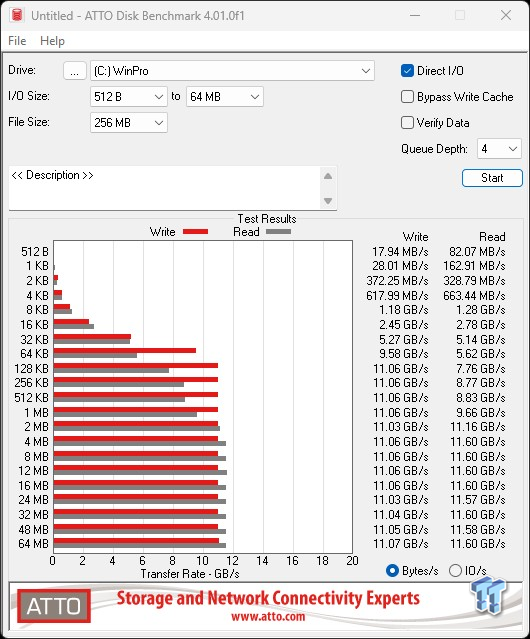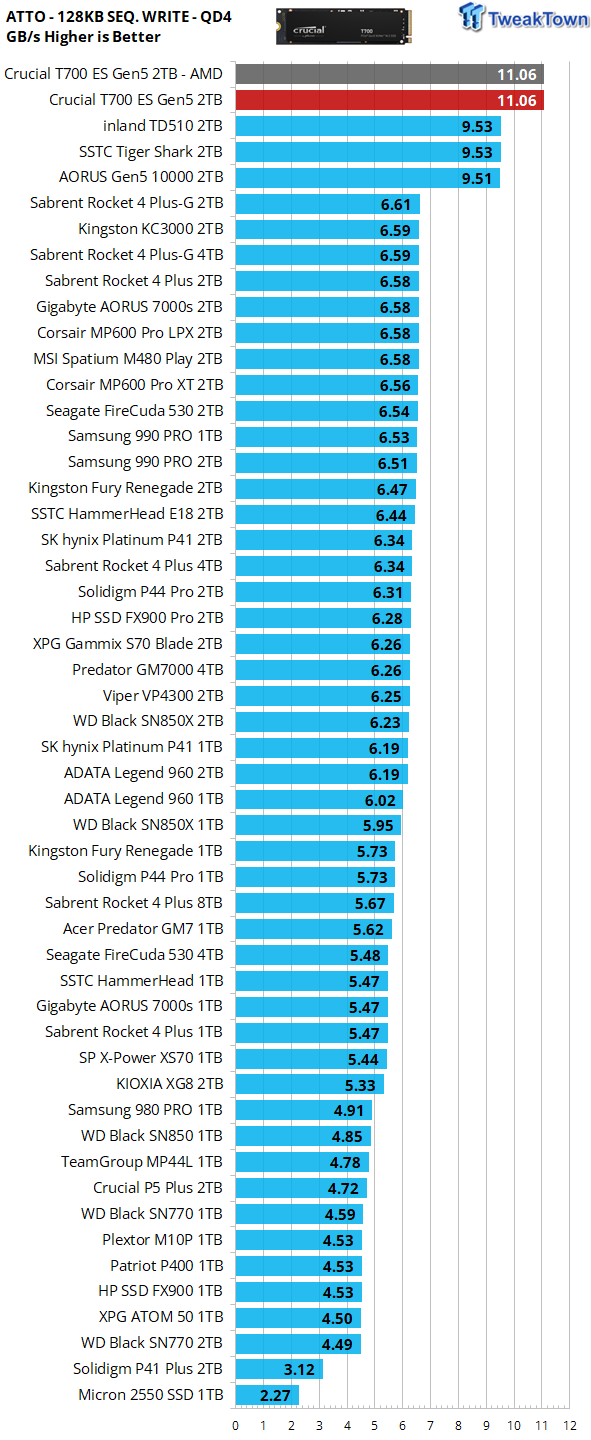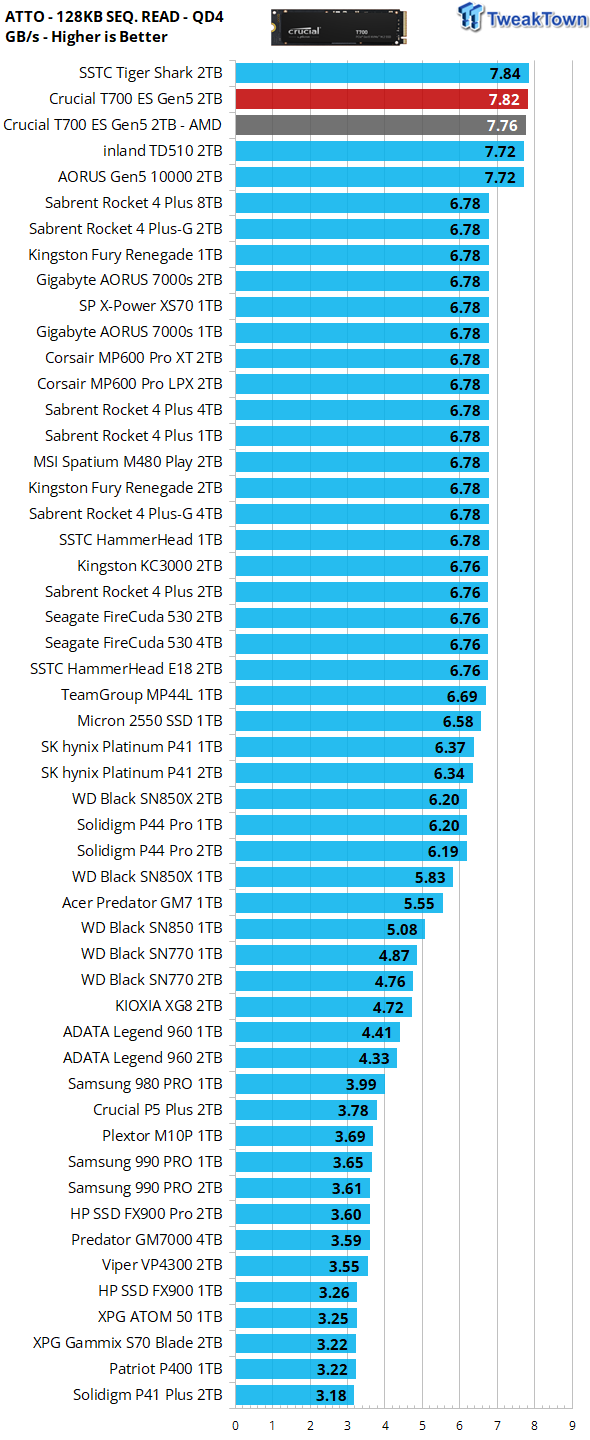 More than anything else, ATTO gives us a clear picture of what transfer sizes a particular SSD favors in terms of QD4 sequential throughput. Our test subject favors sequential transfers of 4MB or larger when serving data to the host (reading) and 128K or larger when programming (writing) data.
Real-World Testing: Transfers, 3DMark SSD Gaming Test, PCM10 Storage
Transfer Rates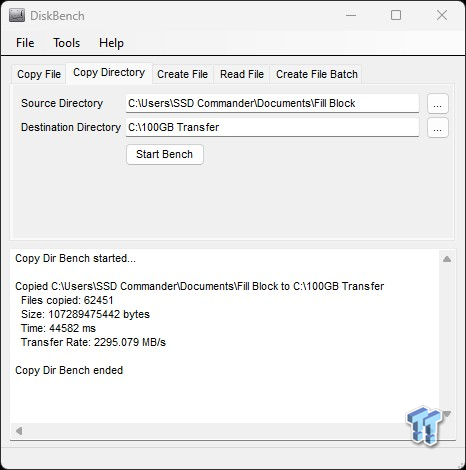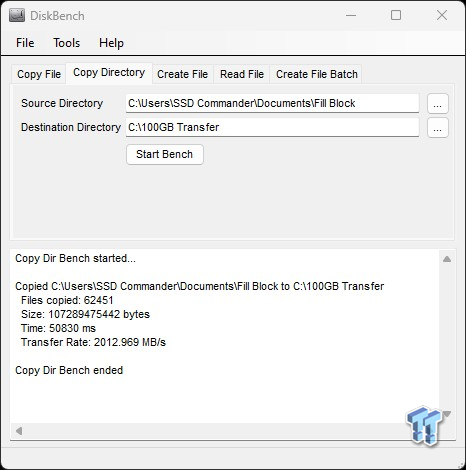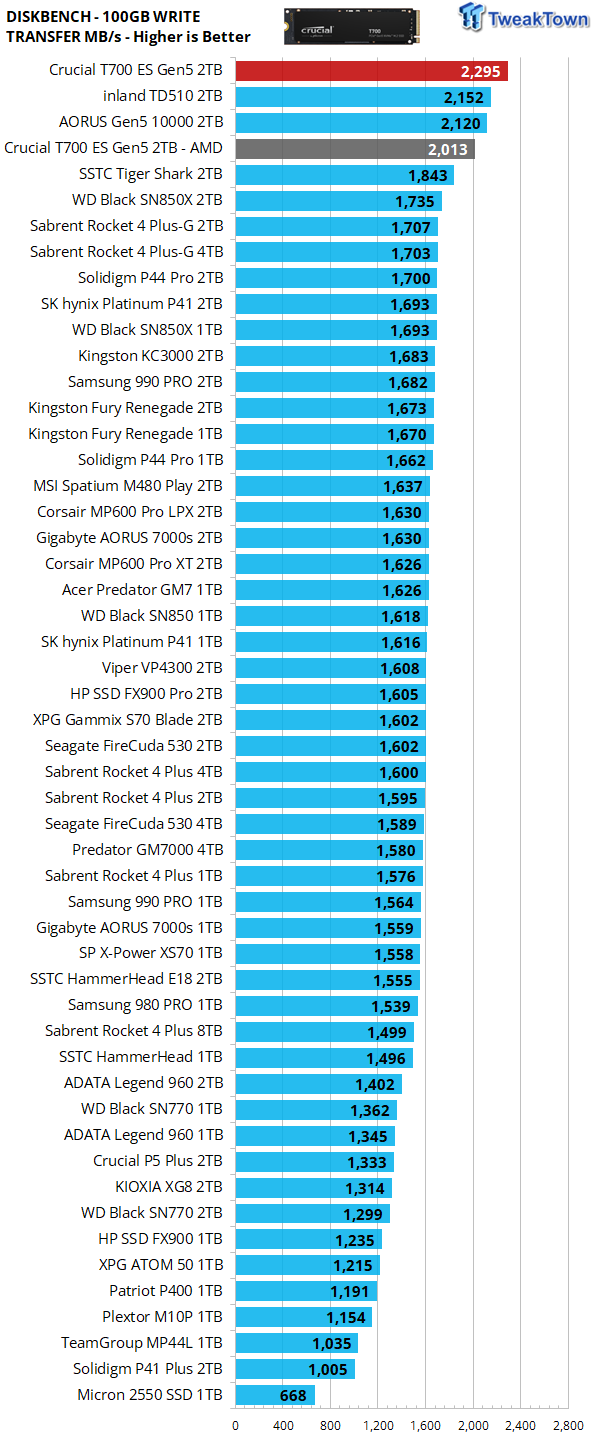 Our 100GB data transfer test is not your ordinary 100GB of data. Ours is a crushing mix composed of more than 62K files. Write performance random or sequential, is an infrequent operation, and as such, we do not consider it to be an important performance metric in the consumer space. An example being how many times is a game installed vs. how many times it's played. As expected, a new lab record for a single SSD. Nice.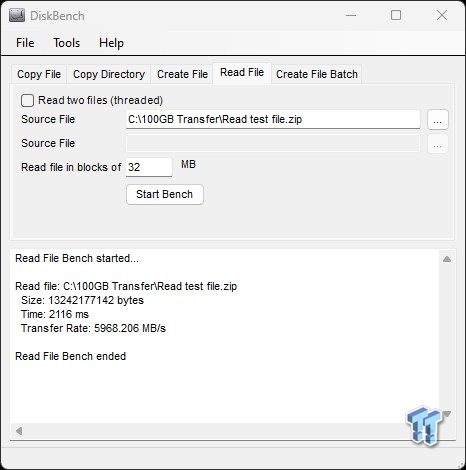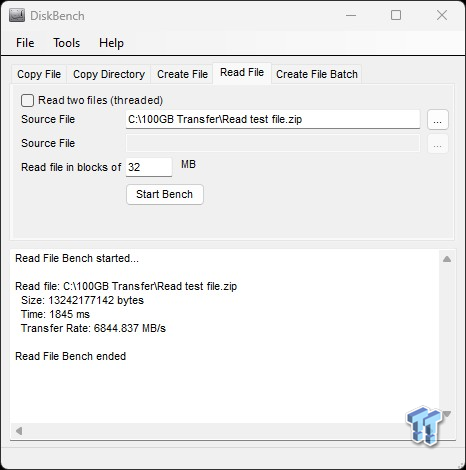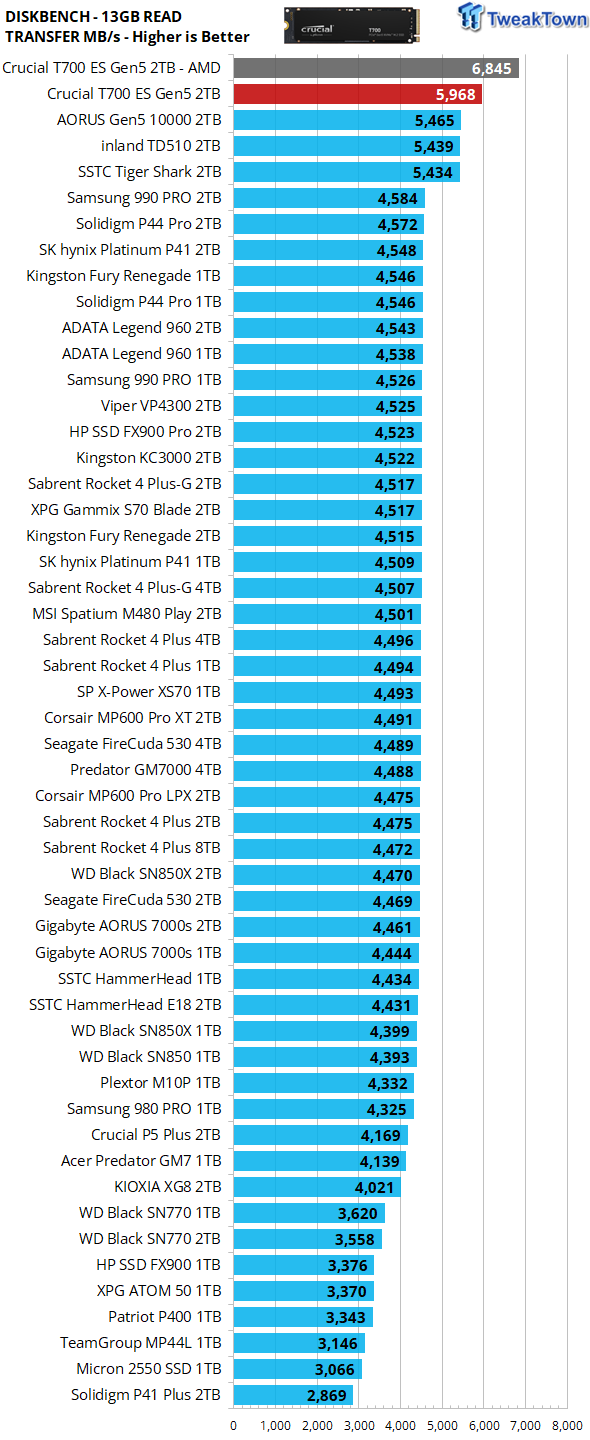 Unlike programming (writing) data, serving data to the host (reading) data is always an important performance metric, and here again, our test subject does it at unprecedented levels, again setting another lab record for a single SSD. Impressive.
To this point, we've demonstrated that Crucial's claim of its T700 being the world's FASTEST SSD is indeed valid. Now let's find out if it is, much more importantly so, the world's best PERFORMING flash-based consumer SSD by getting into where performance matters most, which is ironically where sequential throughput matters the least.
3DMark SSD Gaming Test
UL's newest 3DMark SSD Gaming Test is the most comprehensive SSD gaming test ever devised. We consider it superior to testing against games themselves because, as a trace, it is much more consistent than variations that will occur between runs on the actual game itself. This test is in fact the same as running the actual game, just without the inconsistencies inherent to application testing.
In short, we believe that this is the world's best way to test an SSDs gaming prowess and accurately compare it against competing SSDs. The 3DMark SSD Gaming Test measures and scores the following:
Loading Battlefield V from launch to the main menu.

Loading Call of Duty Black Ops 4 from launch to the main menu.

Loading Overwatch from launch to the main menu.

Recording a 1080p gameplay video at 60 FPS with OBS (Open Broadcaster Software) while playing Overwatch.

Installing The Outer Worlds from the Epic Games Launcher.

Saving game progress in The Outer Worlds.

Copying the Steam folder for Counter-Strike Global Offensive from an external SSD to the system drive.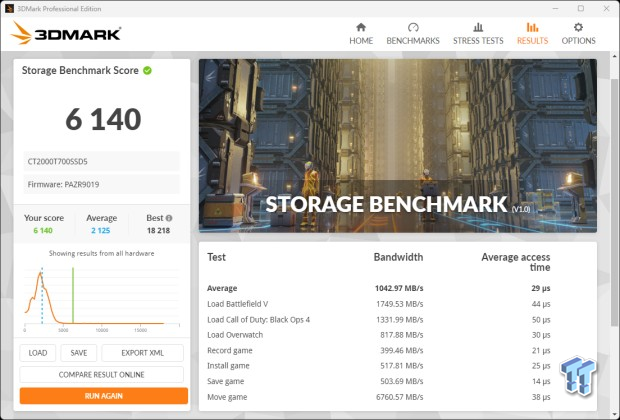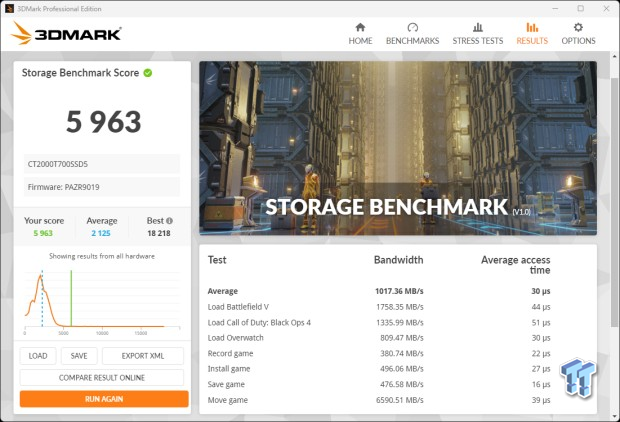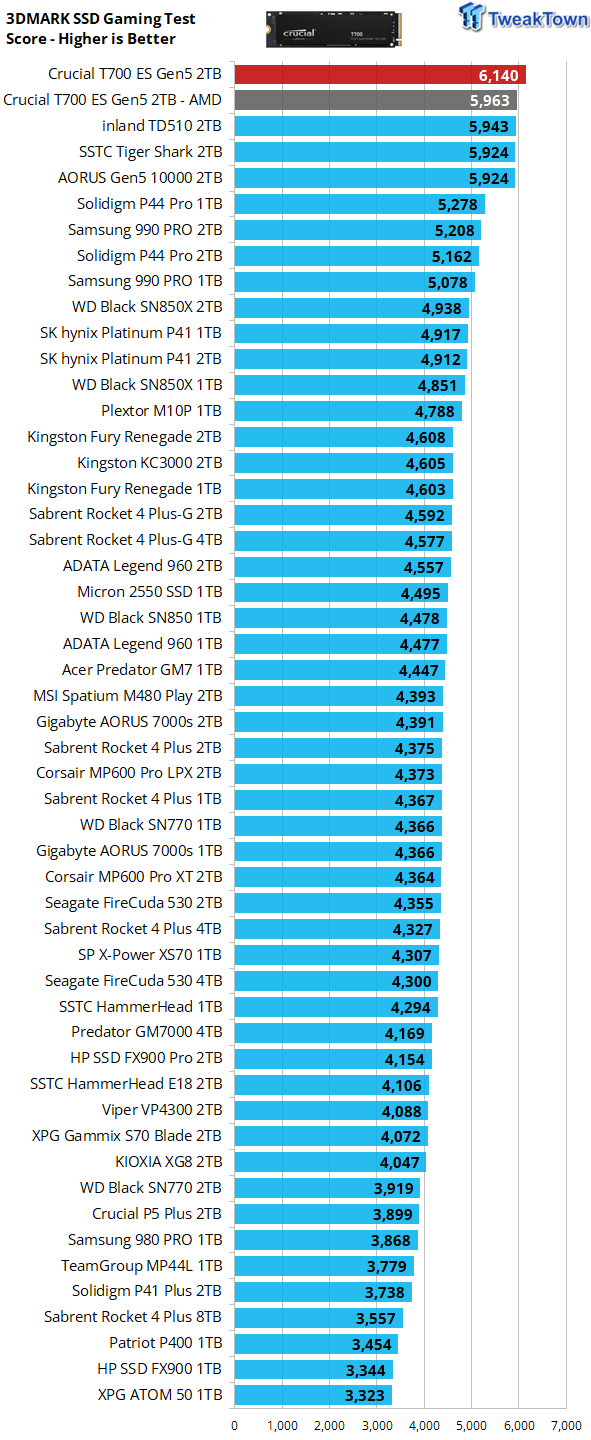 Gaming is a performance metric that matters to the majority of DIY consumers, especially to the enthusiast crowd that TweakTown caters to. A score of 6K here is a milestone of sorts that has eluded all flash-based SSDs than have come before it. The T700 manages to yet again raise the bar, and this time doing so where performance matters most. Impressive.
PCM10 Storage Tests
PCMark 10 Storage Test is the most advanced and most accurate real-world consumer storage test ever made. There are four different tests you can choose from; we run two of them.
The Full System Drive Benchmark and the Quick System Drive Benchmark. The Full System Drive Benchmark writes 204 GB of data over the duration of the test. The Quick System Drive Benchmark writes 23 GB of data over the duration of the test. These tests directly correlate with mainstream user experience.
PCMark 10 Full System Drive Benchmark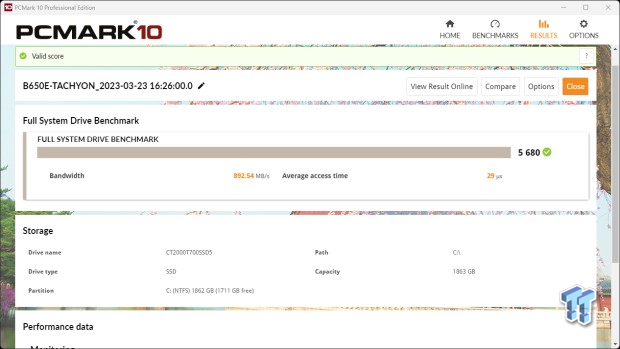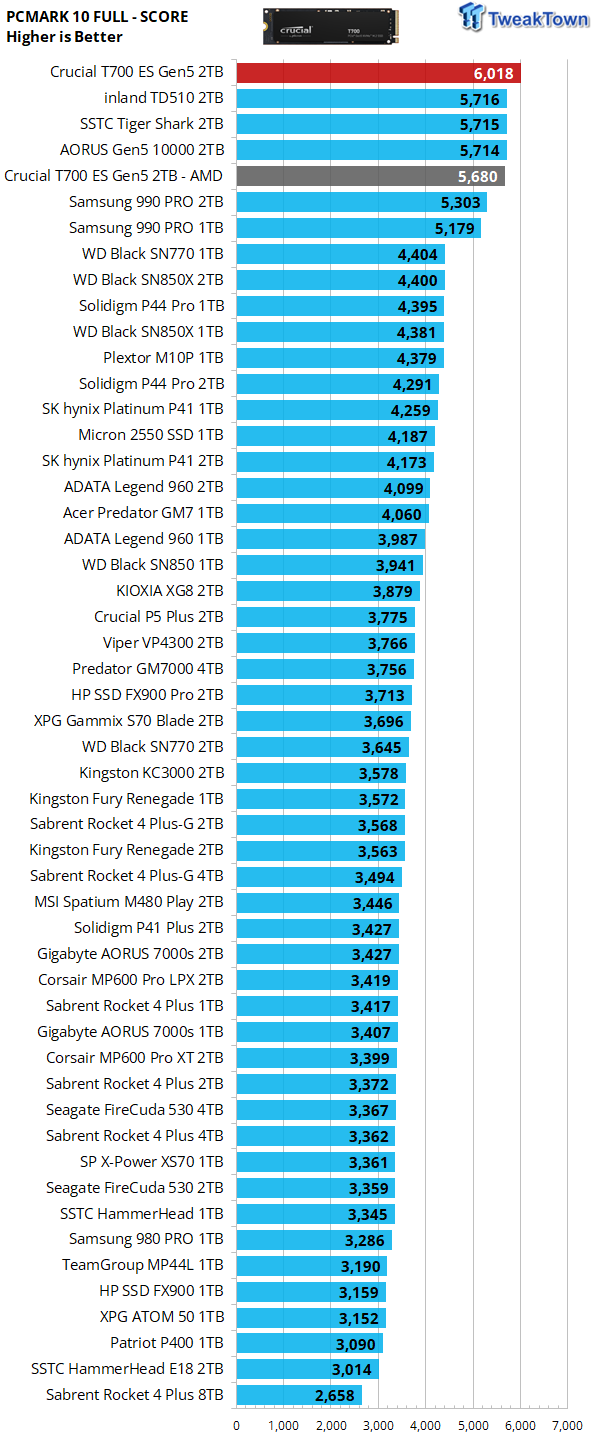 This particular test writes 204GB data and covers a broad range of common consumer tasks, including booting Windows 10, file transfers, Adobe and Office applications, and startup times for games, including Battlefield V, COD Black Ops 4, and Overwatch. Unlike synthetic numbers, this is comprehensive real-world data which is why we use it to rank SSDs in terms of user experience.
The most performance where it matters most. Another milestone achievement goes to the T700, where it again becomes the first flash-based SSD to score 6K against this very demanding consumer workload simulation. Outstanding.
PCMark 10 Quick System Drive Benchmark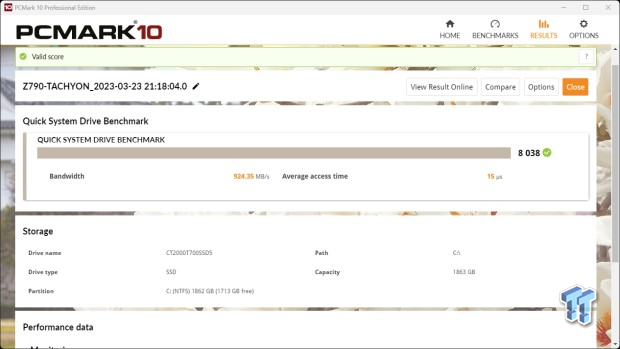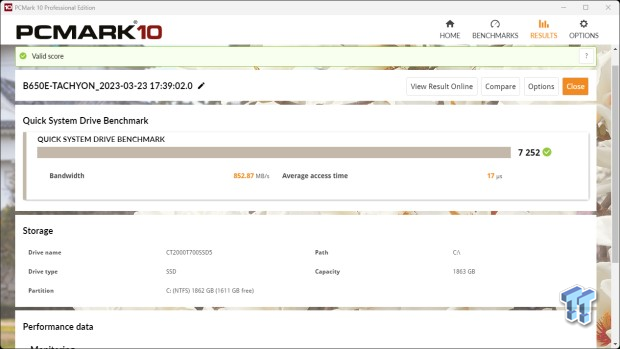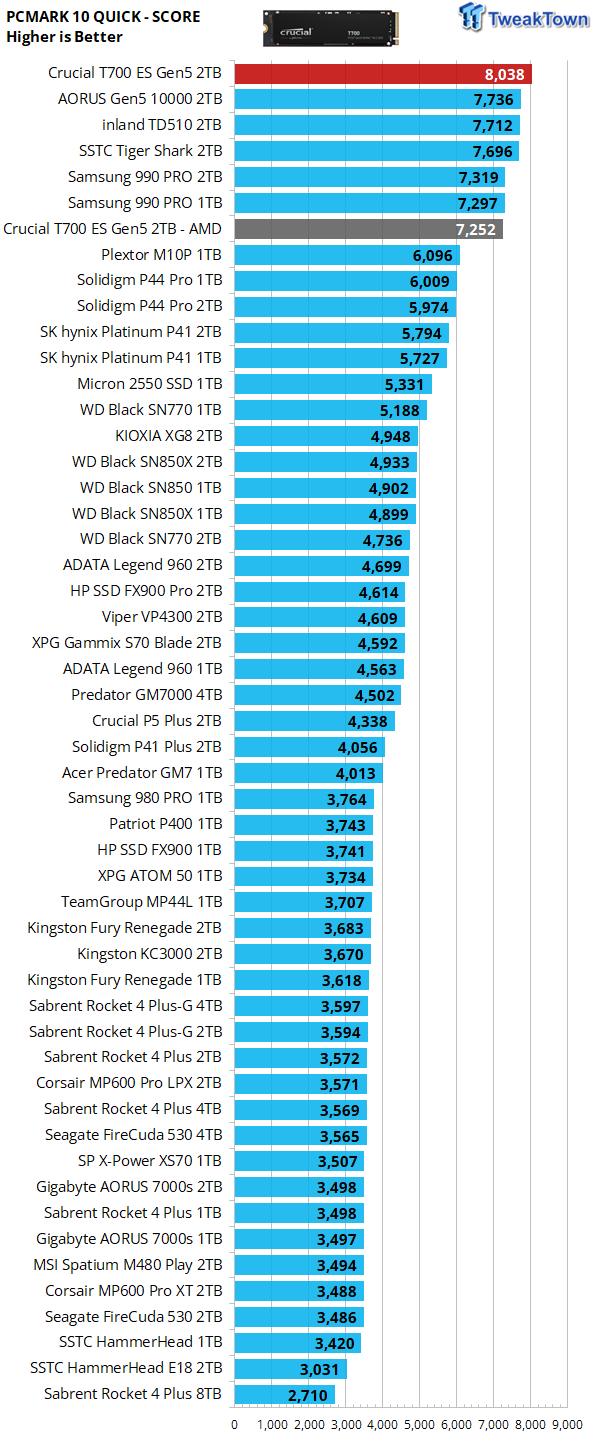 Milestones are falling right and left for the T700. This time it manages to deliver the first-ever 8K score for a flash-based SSD. This is real performance, performance that matters.
Final Thoughts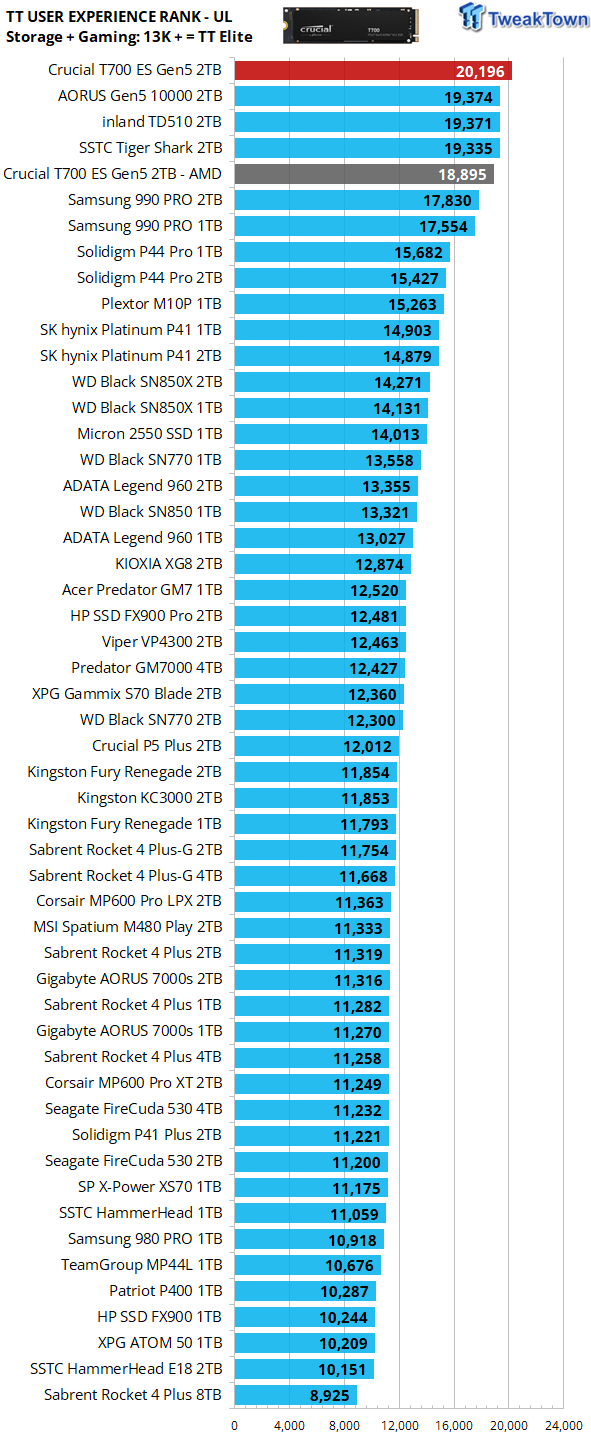 We rank SSDs in terms of overall user experience (performance where it matters most) as expressed by PCMark 10 storage and 3DMark gaming storage tests. We consider a user experience score of 13K or more to verify an SSD as a TweakTown Elite performer.
Incredible as we are treated to yet another milestone with the T700 surpassing a 20K user experience ranking for the first time ever. I guess we need to raise the bar again and make it 14K to be considered TT elite, but we will wait for the retail version before doing that.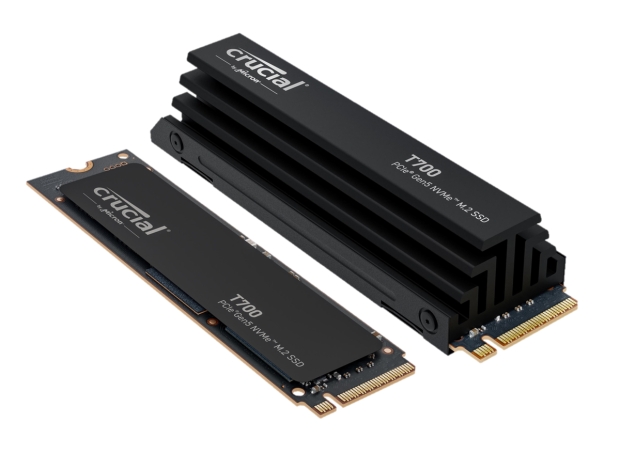 Being the retail arm of Micron has its advantages. Crucial has unfettered access to the best of the best Micron flash, and when viewed through that lens, it comes as no surprise that the T700 is indeed, as claimed, currently the fastest and best-performing flash-based consumer SSD on the planet.
We see this as a huge accomplishment for Crucial because it is the first time ever that Crucial is the brand offering the world's best-performing flash-based SSD. Congrats to you, Crucial. Kudos to Phison as well for the very same reason.
Pros
Throughput

Gaming

Consumer Workloads
Cons