Introduction & Drive Details
As you may or may not know, Intel sold off its flash business to the South Korean memory giant SK hynix. After taking ownership of Intel's flash business, SK hynix chose to keep the core personnel of what was previously Intel in place and change the name to Solidigm. We really like this approach, as it has kept continuity going forward, building on all the experience garnered by Intel over the past decade or so.
To date, Solidigm has brought to market two client SSDs. The first being the extreme value focused QLC arrayed P41 Plus, the second being the enthusiast focused TLC arrayed P44 Pro. To complement both these drives, Solidigm offers some freeware they call Synergy. Solidigm's Synergy Software consists of two components, a storage toolbox, and a proprietary NVMe driver.
Of the two components, we've previously only used the storage driver and only with the P44 Pro. Solidigm describes its Synergy NVMe driver as follows: "The Solidigm Storage Driver enables a new level of communication between your SSD and system that includes detailed information-not just about what data is being stored, but how important it is to you as the user. By leveraging this new communication path, the Solidigm driver can help your SSD optimize how data is stored, ensuring the most useful information is available to you quickly when you need it".
We found this to indeed be the case as we employed the Synergy NVMe driver to great success when we reviewed the P44 Plus. This driver delivered a head-turning 5% overall more real-world performance than we could get from the standard MS NVMe driver. A free 5% performance uplift? Hey, as avid storage enthusiasts, we love it.
So, here we are today, introducing the next generation of Solidigm's Synergy Software - Synergy 2.0. Solidigm Synergy 2.0 Software offers new features to optimize and personalize storage performance. It is a "free software suite that is driving a new level of PC user experience". "The latest Solidigm Synergy software improves the PC user experience for all SSD users. It increases performance where it matters most on Solidigm SSDs and offers a host of useful drive management features for all SSDs, regardless of manufacturer".
So, the eye-catching part of the statement above is that the Synergy 2.0 storage tool offers useful drive management features for all SSDs. Okay, that's somewhat different than what we've come to expect from proprietary storage tools to this point, as most features typically only work with their own brand. This could be good news for all users, and indeed Solidigm is aiming to make its Synergy 2.0 Storage tool a kind of ubiquitous piece of software in the PC space.
The second part of Synergy 2.0 is, of course, proprietary to Solidigm SSDs. The Synergy 2.0 NVMe driver. Version 2.0 promises even more performance than previous versions. Solidigm describes its improved NVMe driver as follows: "An Intelligent and Responsive Storage Driver Compatible with all Solidigm client SSDs, the Solidigm Synergy Driver offers a variety of user experience optimizations.
Fast Lane, a feature that learns what files are accessed most frequently and prioritizes them for faster access, maintaining performance as your drive fills up. When paired with the Solidigm P41 Plus SSD, users can expect up to 120% faster random read speeds even when the drive is at 50% capacity. Additional features include Smart Prefetch, which can improve game loads by accelerating sequential reads by up to 350%, and Dynamic Queue Assignment, which improves random writes by up to 20% for a more responsive user experience".
Okay, we are going to put these performance claims to the test via our trusty Solidigm P41 Plus 2TB and also explore what the improved Synergy Storage Tool can do for you, whether or not you own a Solidigm SSD. One final note before we begin, the Synergy NVMe driver 2.0 is backward compatible with Intel SSDs going all the way back to the Intel 665p.
Drive Details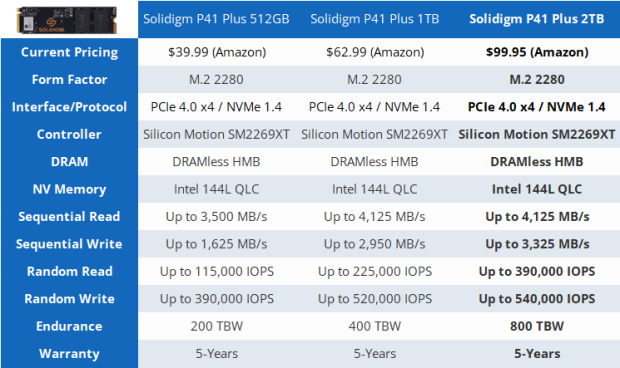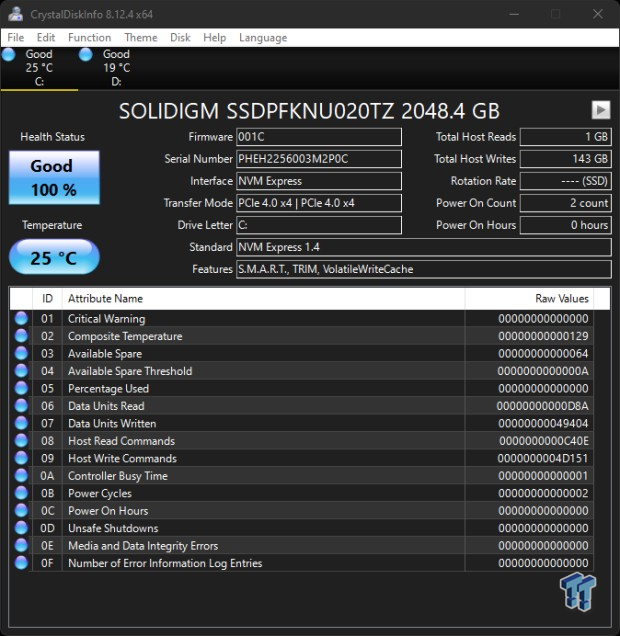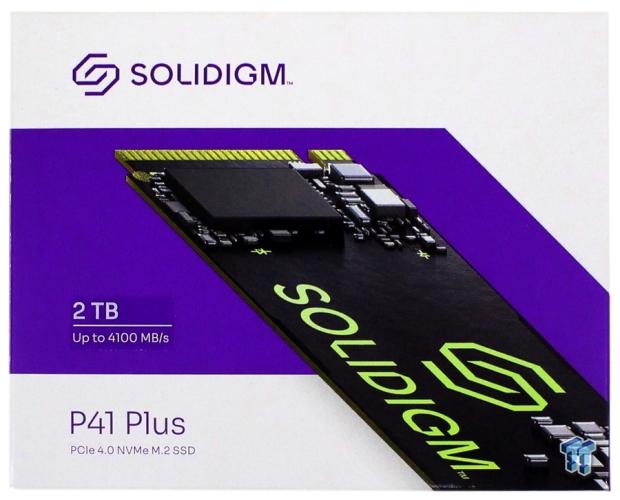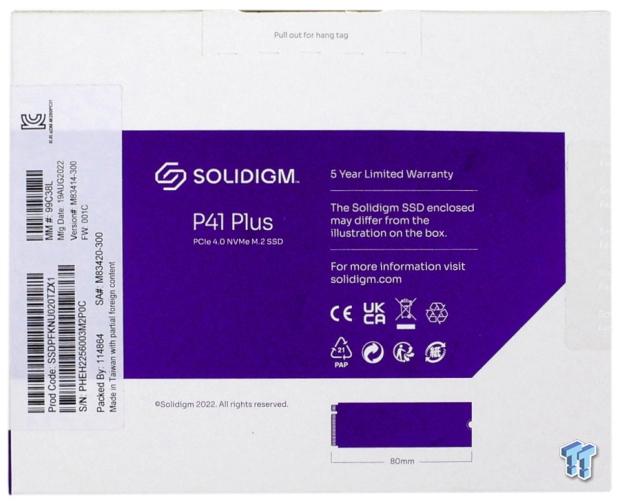 As mentioned, Synergy 2.0 is fully supported by the P41 Plus and P44 Pro. For our testing purposes, we are utilizing the P41 Plus. We will mention right here that the 2TB P41 Plus is now retailing for under 5 cents per gigabyte, making it the best value in NVMe-based solid state storage we've seen to date. Outstanding.
Jon's Test System Specifications
Intel Test System
Storage Tool
Solidigm Synergy Toolkit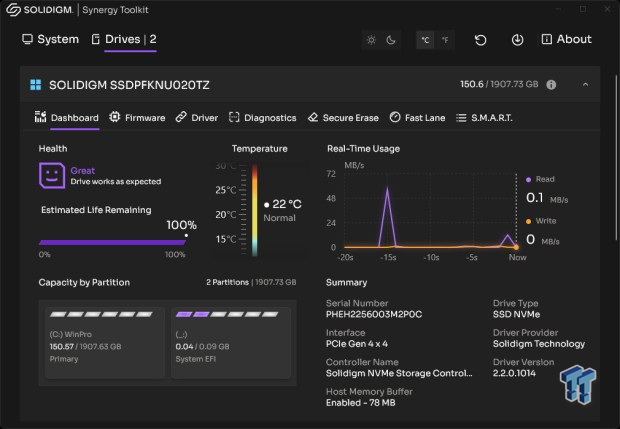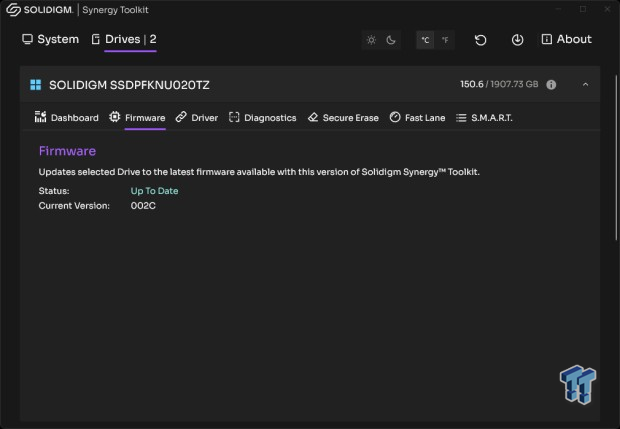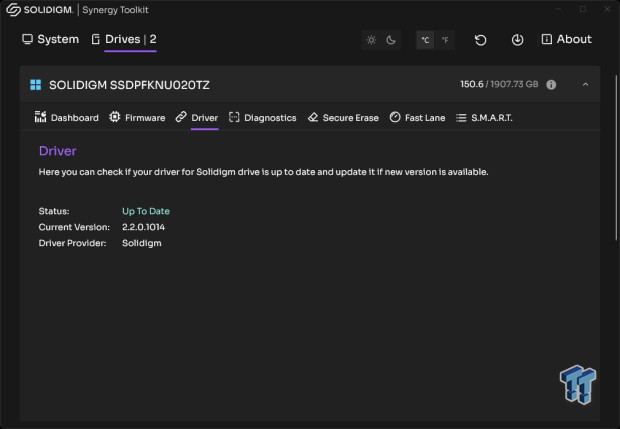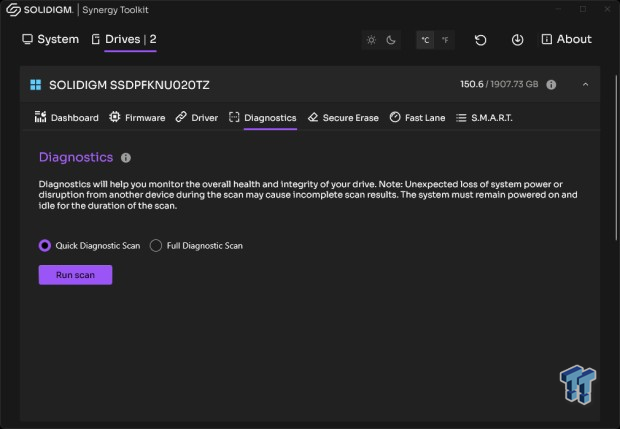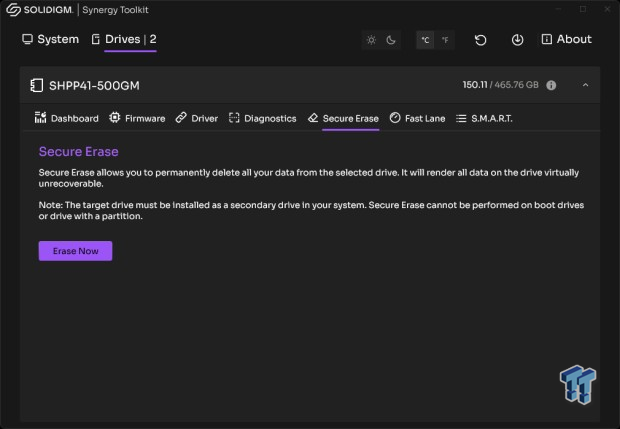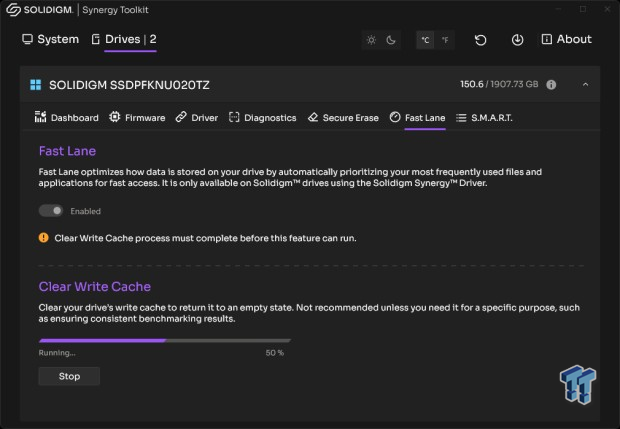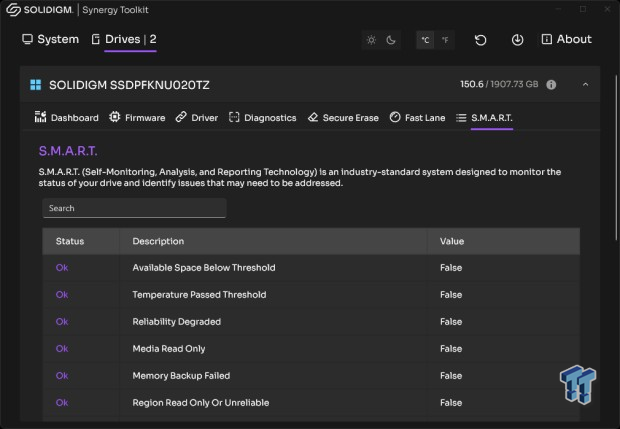 The screenshots above validate that the Synergy 2.0 Toolkit has a ton of useful functions, many of which can be used to manage non-Solidigm SSDs as well. The feature we like most is the Secure Erase feature which, as we see it, is in and of itself reason enough for anyone to have this Storage Tool in their software arsenal. The fact that it can be used on ANY NVMe SSD is completely unique, and we applaud Solidigm for offering it in this manner. Now, if they could do the same with drive cloning, it would indeed become a ubiquitous tool along the lines of 7-zip or CPUz.
Additionally, and as it relates to all NVMe SSDs, Solidigm's S.M.A.R.T. data readout is translated into human speak, so anyone can easily understand the status of their SSD. Excellent.
Now for the good stuff. If you happen to own a Solidigm or Intel NVMe SSD, you can optionally employ Solidigm's NVMe driver. You will indeed want to do this because it enables a superior user experience. Using the toolkit, you can download and install the Solidigm Synergy NVMe driver for a free performance boost.
Not only is the Solidigm NVMe driver more efficient than the standard Windows NVMe driver, but it's smarter too. "Fast Lane optimizes how data is stored on your drive by automatically prioritizing your most frequently used files and applications for fast access". Simply stated, it keeps the most frequently accessed data in the SLC cache for access up to 3.5x faster than accessing from the QLC or TLC array. Oh, and one more thing we find refreshing about the Synergy Toolkit, it doesn't need to be running in the background stealing CPU cycles. You use it, then close it, and does its thing via the driver.
Finally, and worth noting here, Solidigm's NVMe driver is fully compatible with Microsoft's DirectStorage API and will give you a boost there as well.
Benchmarks
CrystalDiskMark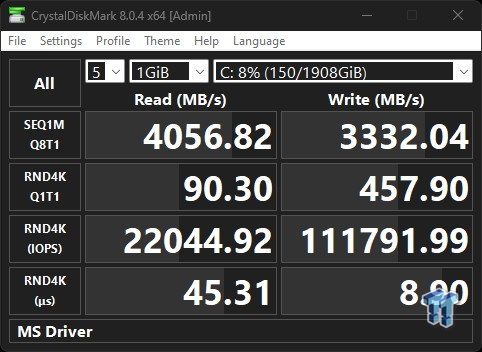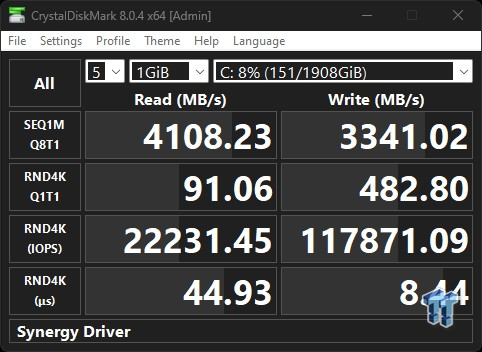 CDM is the only synthetic benchmark we will run for this review, as Fast Lane technology is designed primarily to deliver superior performance where performance matters most, operating system, gaming, and consumer workloads.
CDM reveals a slight uptick across the board for sequential and random performance when the Synergy 2.0 NVMe driver is employed.
3DMark SSD Gaming Test
UL's newest 3DMark SSD Gaming Test is the most comprehensive SSD gaming test ever devised. We consider it superior to testing against games themselves because, as a trace, it is much more consistent than variations that will occur between runs on the actual game itself. This test is in fact the same as running the actual game, just without the inconsistencies inherent to application testing.
In short, we believe that this is the world's best way to test an SSDs gaming prowess and accurately compare it against competing SSDs. The 3DMark SSD Gaming Test measures and scores the following:
Loading Battlefield V from launch to the main menu.

Loading Call of Duty Black Ops 4 from launch to the main menu.

Loading Overwatch from launch to the main menu.

Recording a 1080p gameplay video at 60 FPS with OBS (Open Broadcaster Software) while playing Overwatch.

Installing The Outer Worlds from the Epic Games Launcher.

Saving game progress in The Outer Worlds.

Copying the Steam folder for Counter-Strike Global Offensive from an external SSD to the system drive.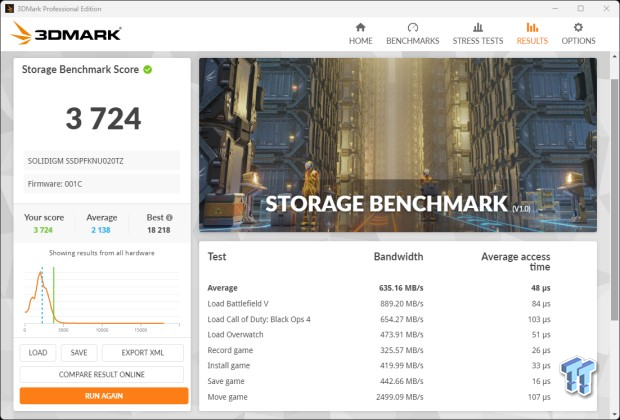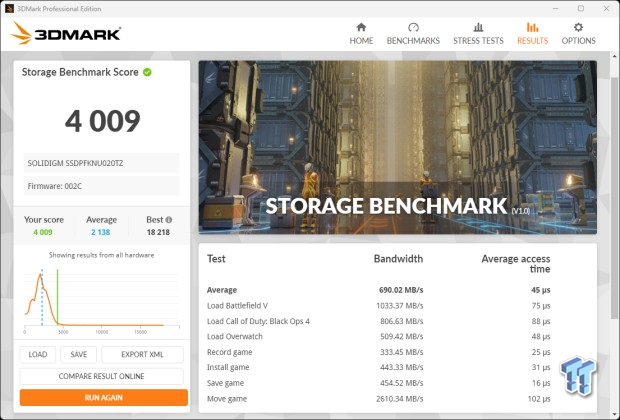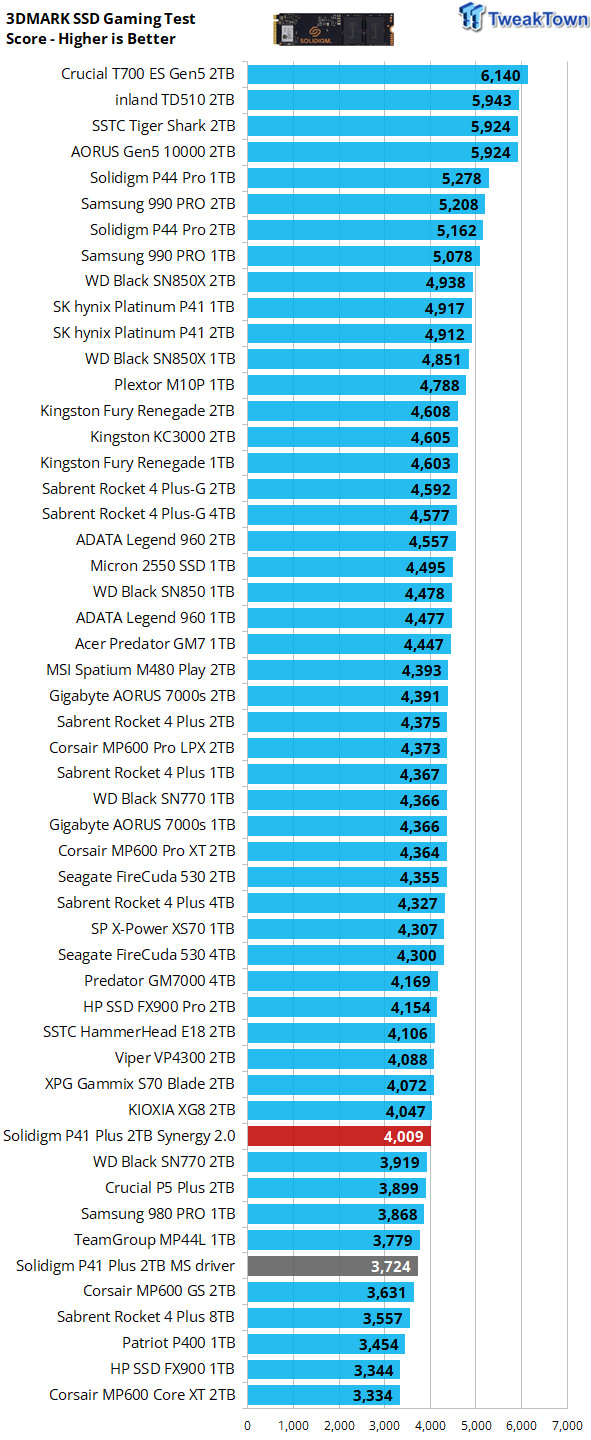 Gaming is a performance metric that matters to the majority of DIY consumers, especially to the enthusiast crowd that TweakTown caters to. Okay, here we go. This is performance that matters, and here we find Fast Lane technology delivering a whopping 7.2% more performance than the standard NVMe driver can muster.
Hey, look at that. Solidigm's 2TB P41 Plus with Fast Lane at less than 5 cents per gigabyte is overall a better gaming SSD than Samsung's 980 Pro at 8 cents per gigabyte. Impressive. Less money, less power, and less heat. Gotta love that.
PCM10 Storage Tests
PCMark 10 Storage Test is the most advanced and most accurate real-world consumer storage test ever made. There are four different tests you can choose from; we run two of them.
The Full System Drive Benchmark and the Quick System Drive Benchmark. The Full System Drive Benchmark writes 204 GB of data over the duration of the test. The Quick System Drive Benchmark writes 23 GB of data over the duration of the test. These tests directly correlate with mainstream user experience.
PCMark 10 Full System Drive Benchmark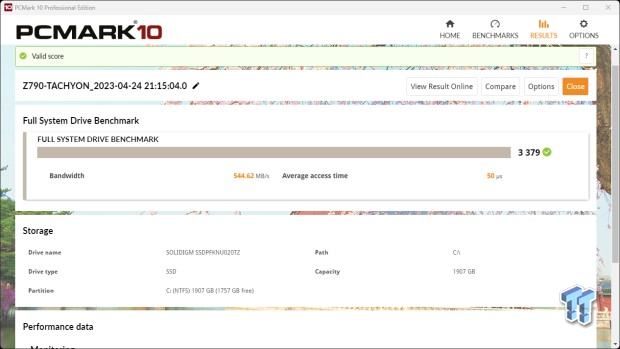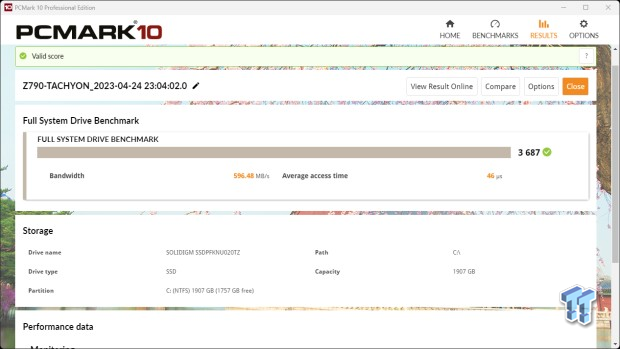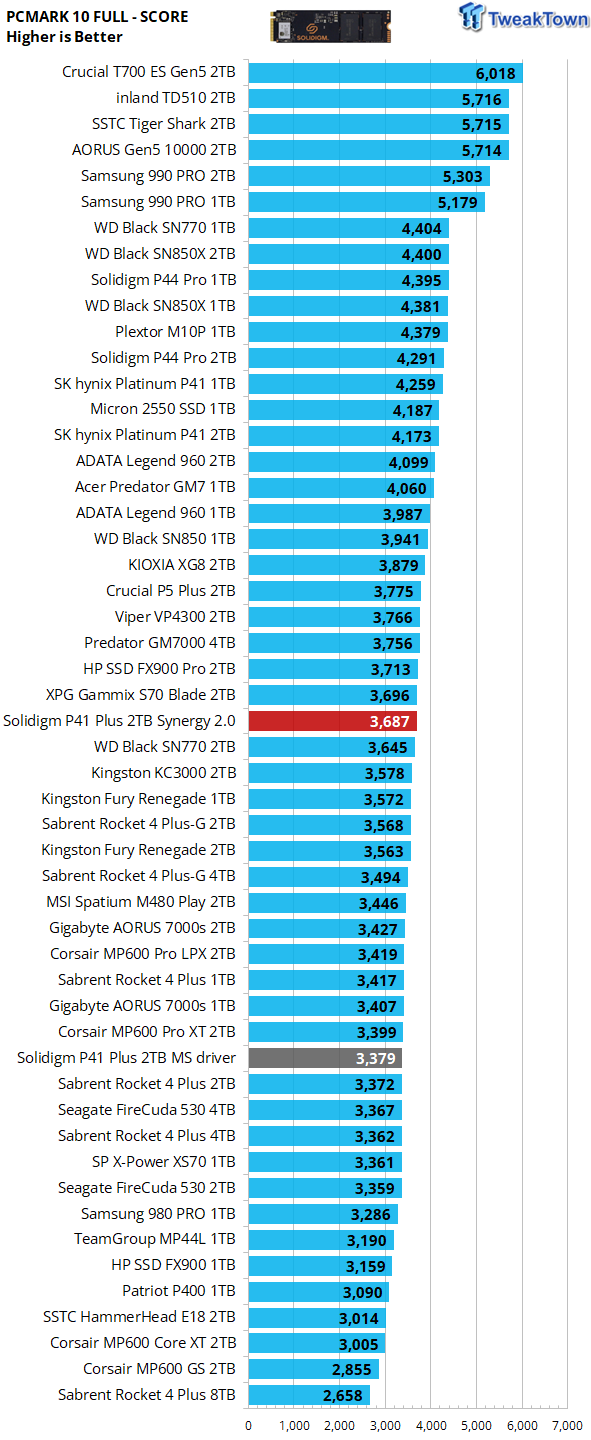 This particular test writes 204GB data and covers a broad range of common consumer tasks, including booting Windows 10, file transfers, Adobe and Office applications, and startup times for games, including Battlefield V, COD Black Ops 4, and Overwatch. Unlike synthetic numbers, this is comprehensive real-world data which is why we use it to rank SSDs in terms of user experience.
Incredible performance here where most DRAMless SSDs and QLC SSDs traditionally take a pummeling -heavy consumer workloads. Fast Lane technology really is a difference maker when running sustained consumer workloads, including gaming. In this case, we are getting an even more head-turning 8.4% performance gain. Amazing.
Additionally, we would point out that not only does the Fast Lane-enabled P41 Plus lay the smack down on Samsung's 980 Pro, but it also beats out every Phison E18-controlled SSD ever made, including the mighty Kingston Fury Renegade. This is performance that matters and clear evidence of Solidigm's driver superiority.
PCMark 10 Quick System Drive Benchmark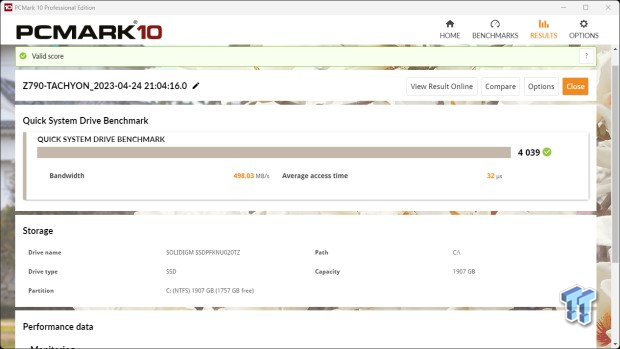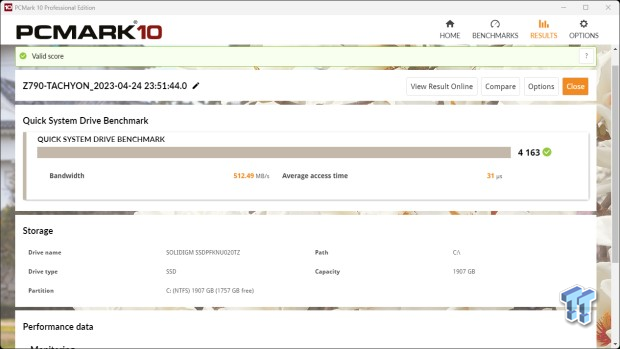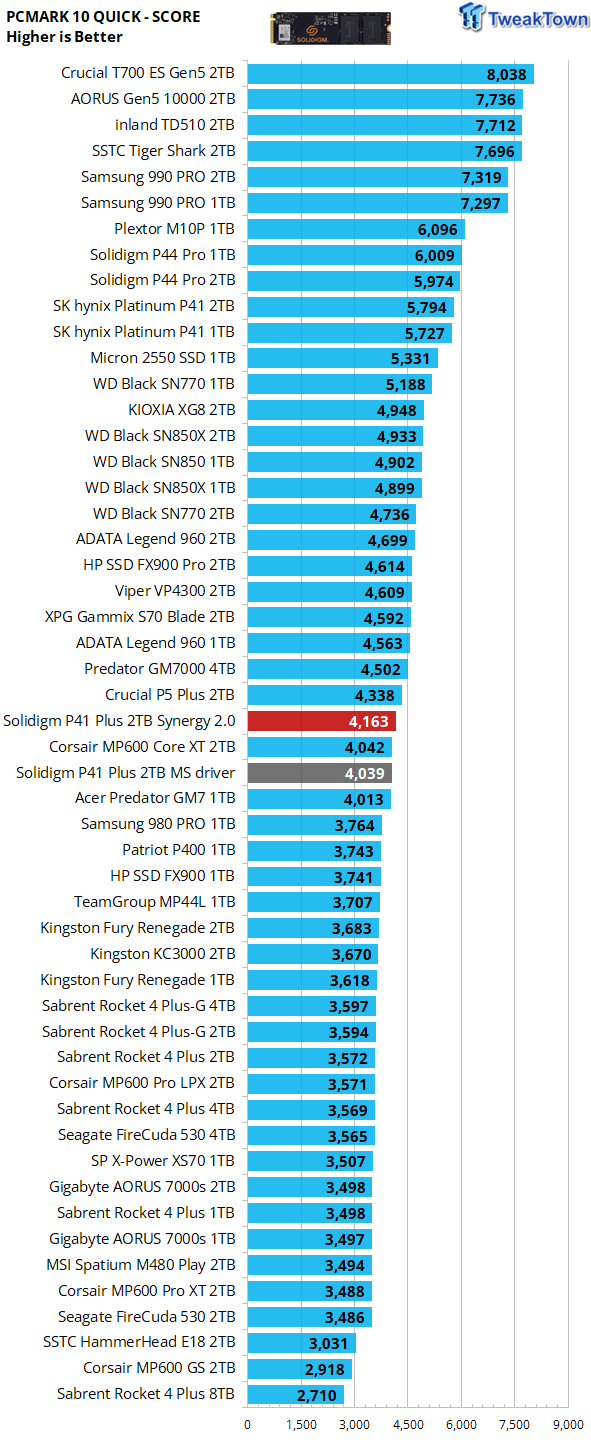 More of the same here, but this time the P41 Plus stacks even higher on our chart, which is overflowing with 7,000 MB/s capable SSDs, actually defeating half of them. Incredible and more solid proof that sequential throughput has nothing to do with real performance.
This is a shorter test involving less data than the previous test, which results in a 3% performance advantage for Fast Lane technology over the standard NVMe driver. Again impressive.
Final Thoughts
Synergy 2.0 is easily the best-supporting software for Solid State Storage we've experienced to date. There was a time when Samsung Magician could give Synergy 2.0 a run for its money, but that ship sailed long ago when Samsung elected to abandon its performance-enhancing proprietary NVMe driver. Additionally, Magician does not allow for secure erasing non-Samsung SSDs.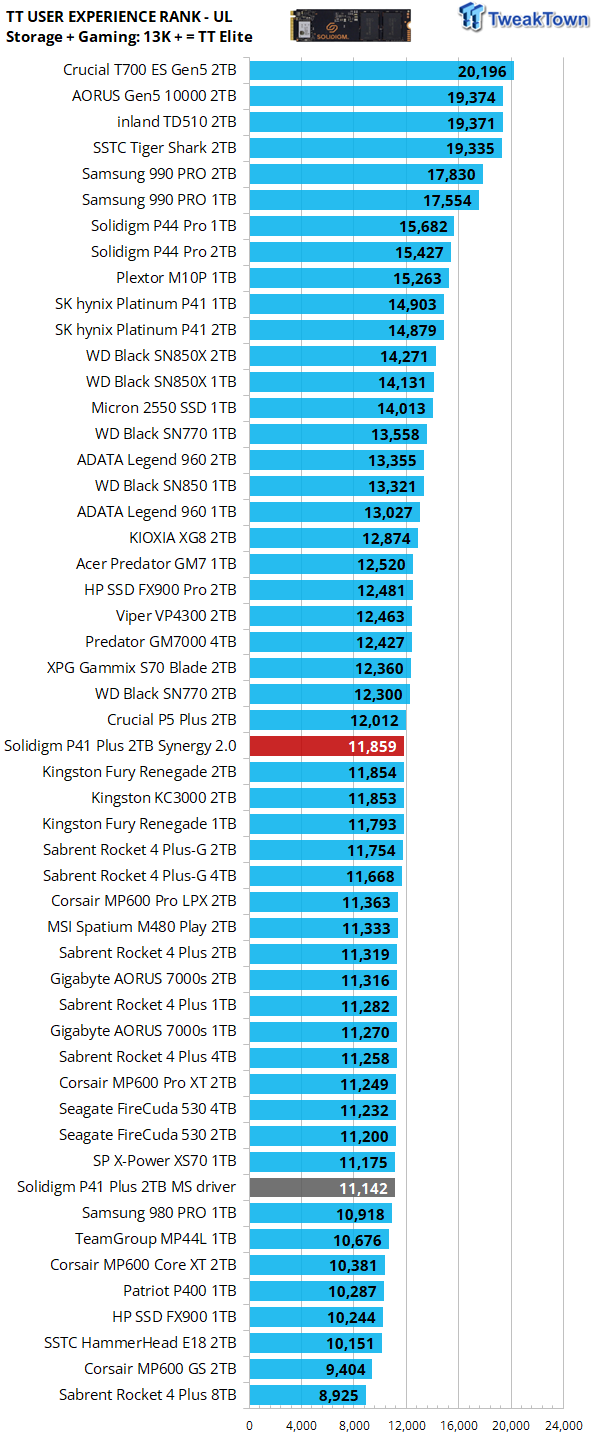 We rank SSDs in terms of overall user experience (performance where it matters most) as expressed by PCMark 10 storage and 3DMark gaming storage tests. And there you have it, Solidigm's Synergy 2.0 NVMe driver with Fast Lane technology delivers a 6.1% real-world performance increase free to you - this is performance that matters.
We will once again direct your attention to the above chart. Look at all of the enthusiast-level 7,000 MB/s capable SSDs this 5 cents per gigabyte power-sipping SSD can outperform due largely to Solidigm's dedication to perfecting its Synergy Toolkit.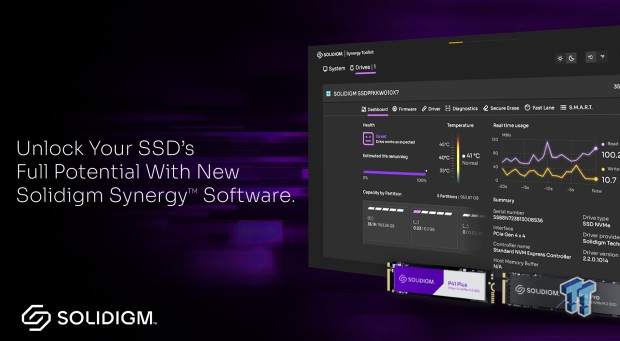 Pros
Fast Lane Prioritized Caching

Secure Erase for All

Simplified S.M.A.R.T
Cons