"AMD is proud to announce that we are Bethesda's exclusive PC partner for the next-generation role-playing game, Starfield," reads the announcement. As one of the biggest PC releases of the year (or decade), the 25-years-in-the-making sci-fi RPG epic from the studio behind Skyrim is out in September.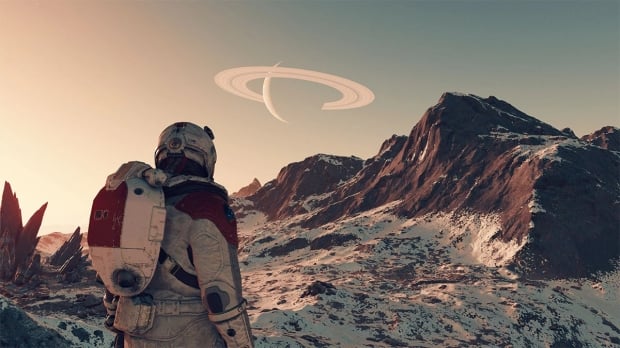 AMD notes that it has worked closely with the team at Bethesda Game Studios on the release of Starfield across the PC and Xbox versions. This makes sense, as Xbox features AMD hardware for its CPU and GPU.
AMD highlights that optimizations have been made for multi-threaded processing for both PC and Xbox, with added support on PC for the new Ryzen 7000 series of processors and the new Radeon RX 7000 series graphics cards. FSR 2 upscaling will be available in the game across PC and Xbox Series X|S hardware.
"We are so excited for our new partnership with AMD on Starfield," Starfield game director Todd Howard said. "It is the most ambitious game we've ever made, and we've built all-new technology for it with Creation Engine 2. Working with AMD to make it look great and run great has been really special. We have AMD engineers in our code base working on FSR 2 image processing and upscaling, which looks incredible. And you're going to get those benefits on PC and Xbox."
The reception to the announcement has been mixed, thanks partly to recent reports that indicate AMD ensures that the games it partners with on PC do not feature NVIDIA DLSS support at or even post-launch. A troubling bit of news when you factor in is that most PC gamers are using GeForce hardware and that DLSS is widely accepted as the superior form of upscaling to boost performance.
So yeah, on the one hand, proper multi-threaded CPU support and FSR 2 on Xbox Series X|S is wonderful news, but on the other hand, a PC launch for Starfield without DLSS support is a major blow. And this partnership rules out the chances of DLSS 3 and Frame Generation coming to the game. Interestingly, AMD didn't announce FSR 3 support for the game - which points to the tech not being ready for a 2023 release.
Of course, as a Bethesda game, it'll only be a matter of time before DLSS and Frame Generation are modded in by the community. Still, here's hoping the game supports NVIDIA DLSS and Intel XeSS on day one, especially when you factor in the hardware requirements for Starfield on PC, which requires both an SSD and a powerful GPU to play with "Recommended" settings.
MINIMUM:
OS: Windows 10
Processor: AMD Ryzen 5 2600X, Intel Core i7-6800K
Memory: 16 GB RAM
Graphics: AMD Radeon RX 5700, NVIDIA GeForce 1070 Ti
Storage: 125 GB, SSD Required
RECOMMENDED:
OS: Windows 10/11
Processor: AMD Ryzen 5 3600X, Intel i5-10600K
Memory: 16 GB RAM
Graphics: AMD Radeon RX 6800 XT, NVIDIA GeForce RTX 2080
Storage: 125 GB, SSD Required