When earlier this week, AMD announced that it was Bethesda's exclusive partner on PC for Starfield, millions of online voices suddenly cried out in terror, and most definitely weren't suddenly silenced. In fact, the continued noise around DLSS support has been pretty deafening.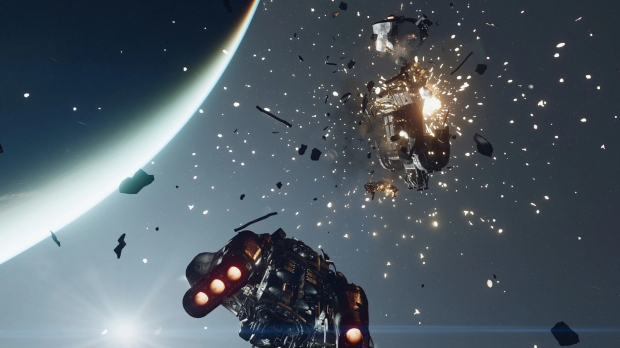 But there's good news, of sorts, for those lamenting the possible lack of DLSS in Starfield - there's a mod on the horizon to fix the situation.
Mind you, before we look at the mod, we should underline the fact that it isn't confirmed that NVIDIA's frame rate boosting tech won't be supported in the space RPG. However, it has been very much presumed this is the case, and that only AMD's FSR will be on-board. In fairness, this seems a likely scenario, but it is not for definite yet.
If this does turn out to be the case, then we've apparently got a mod inbound from a professional modder, PureDark, as revealed on Reddit (and spotted by Wccftech).
We're told that we won't have to wait for DLSS 3 to be implemented via this mod, and that PureDark will have it up and running (as an initial beta) during the five-day early access period for Starfield. DLSS 2 support will follow at some point.
That's good news for those who don't want to wait, and the speedy development time is apparently down to the modder already having DLSS going on Bethesda games using the same engine. (PureDark has DLSS mods for Skyrim and Fallout 4, we're told - and a bunch of other games outside of Bethesda too, like Star Wars Jedi: Survivor and Elden Ring).
DLSS 3 will be a definite boon for those with an RTX 4000 graphics card, and folks with those GPUs are quite desperate to have support built-in. Mainly because they fear Starfield will run like a donkey with lead weights tied to its hooves at launch on PC, so they'll need all the help they can get. And DLSS 3 is capable of big boosts (controversies about the frame generation tech on other fronts aside) that might be needed, if that's the case (another assumption, of course).
The catch for this Starfield mod to bring DLSS into the game is that it won't come free. To get early builds of PureDark's mods, you'll need to subscribe and be a supporter on Patreon (and stay a supporter to get updates, at least while the mod is still in beta).
Some folks are predictably not too happy about having to fork out, but when modding at this level, it's perfectly fair to expect some compensation for your (considerable) efforts. And the mod will likely eventually be free, if you want to wait.
Meanwhile, at least if you want DLSS 3 in the game, you have the choice to get it. (Of course, all of this assumes Starfield doesn't get native support, as noted above).