TweakTown's Rating: 99%
The Bottom Line
Western Digital's WD Blue SN580 1TB is the best performing vs. MSRP SSD we've ever tested.
Pros
+

Value

+

Gaming

+

User experience
Cons
Should you buy it?
Avoid
Consider
Shortlist
Buy
Introduction & Drive Details
As you may have noticed, as of late, prices for SSDs have taken a dramatic turn for the better. As it stands at this moment in time, you can get a 1TB TLC arrayed PCIe Gen4 SSD for as little as $40-$50. We love it, fast affordable solid state storage for the masses. At the going rate of 4-5 cents per gigabyte of storage, SSD manufacturers are increasingly leaning towards DRAMless solutions.
Not so long ago, the word DRAMless conjured up thoughts of garbage performance and an overall inferior user experience. Well, thanks to advances in Host Memory Buffer technology, or HMB as we refer to it, working in tandem with faster flash, modern DRAMless SSDs are capable of delivering jaw-dropping real-world performance. To date, and including the subject of today's review, there are a total of four DRAMless SSDs we've reviewed that stand head and shoulders above the rest. Three are retail, and one is OEM.
All four of these SSDs WD Black SN770, Micron 2550, Acer Predator GM7 and now the WD Blue SN580, are 4-channel controlled so they sip power and run cool.
But, what makes these four stand out as vastly superior to all other DRAMless SSDs (Optane excluded) is the fact that they can actually outperform the vast majority of 8-channel controlled enthusiast SSDs with onboard DRAM. In fact, the WD Blue SN580 we are testing today can deliver better overall real-world performance than any E18-controlled SSD ever made and all but one IG5236-controlled SSD ever made. Now that's impressive.
So here we are today with one of the four best-performing flash-based DRAMless SSDs ever made. The WD Blue SN580 is the successor to Western Digital's PCIe Gen3 interfaced WD Blue SN570 with the main difference between the two value offerings being the SN580 is PCIe Gen4 interfaced. Overall, the hardware layout is the same, with both being arrayed with a single BiCS 5 flash package and controlled by a SanDisk 4-channel DRAMless controller.
The faster interface enables the SN580 to deliver up to 21% higher sequential reads, 66% higher sequential writes, 30% higher random reads, and 123% higher random writes over its PCIe Gen3 predecessor.
As our long-time readers know, and contrary to popular mythology, real performance or performance that matters, expressed as user experience, has absolutely nothing to do with sequential throughput. In other words, a properly configured 4,000 MB/s capable SSD can indeed outperform a whole host of 7,400 MB/s capable SSDs. We will clearly demonstrate for you today as our test subject is perfect for illustrating this not very well-known fact. And furthermore, our test subject does so using half the power and half the channels.
Drive Details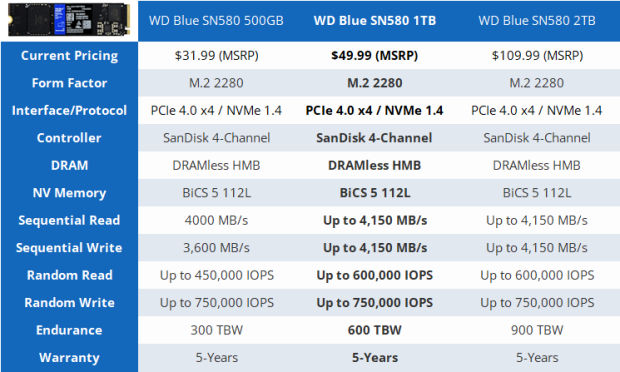 Thanks to its TLC flash array, the WD Blue SN580 has plenty of endurance for just about any type of consumer application. This drive will be right at home running office workloads, gaming, or whatever, and it's not going to have the endurance issues that QLC SSDs can potentially suffer from. TLC for the price of QLC, we like that.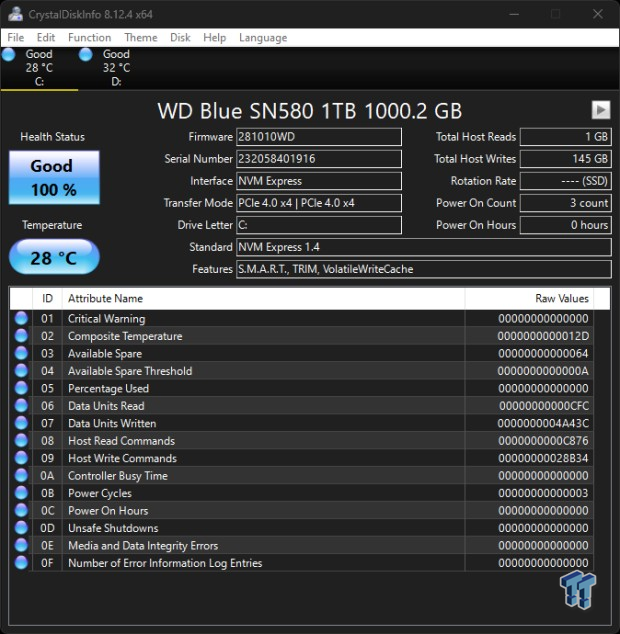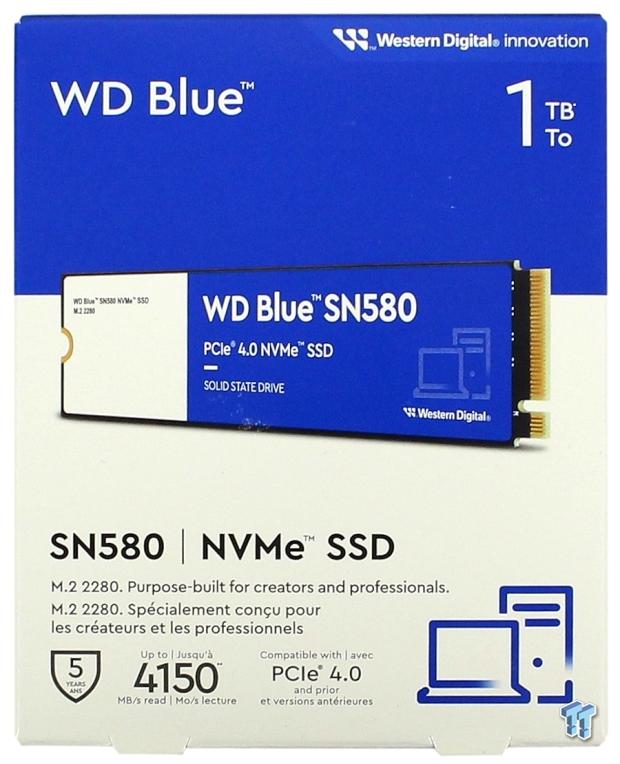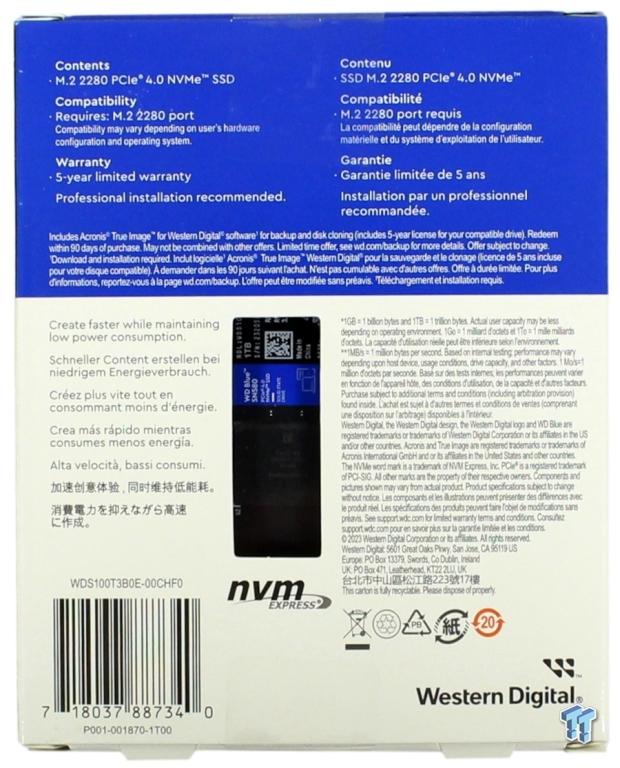 Jon's Test System Specifications
Intel Test System
AMD Test System
Because we at TweakTown like to be first at everything whenever we can, we will present our storage performance results for the test subject on both 13th Gen Intel and 7000 Series AMD platforms going forward for the foreseeable future. Because Intel still delivers the best real-world storage performance, (Look Here), our running chart will continue to be Intel-based until AMD can deliver better real-world storage performance than its rival.
Synthetic Benchmarks: CDM, Anvil, ATTO
CrystalDiskMark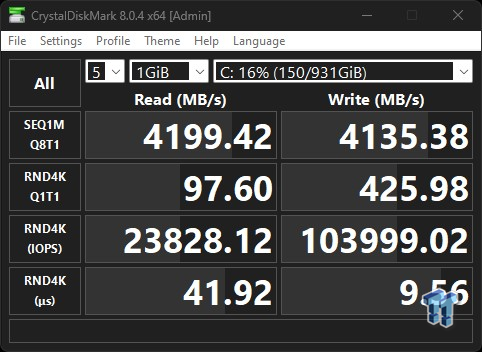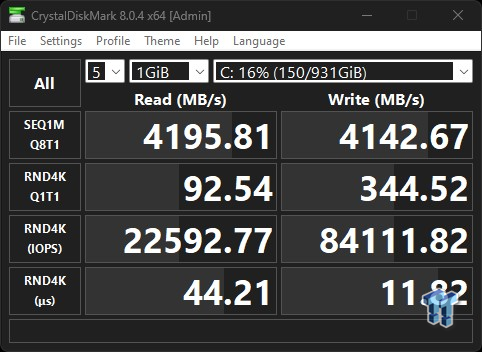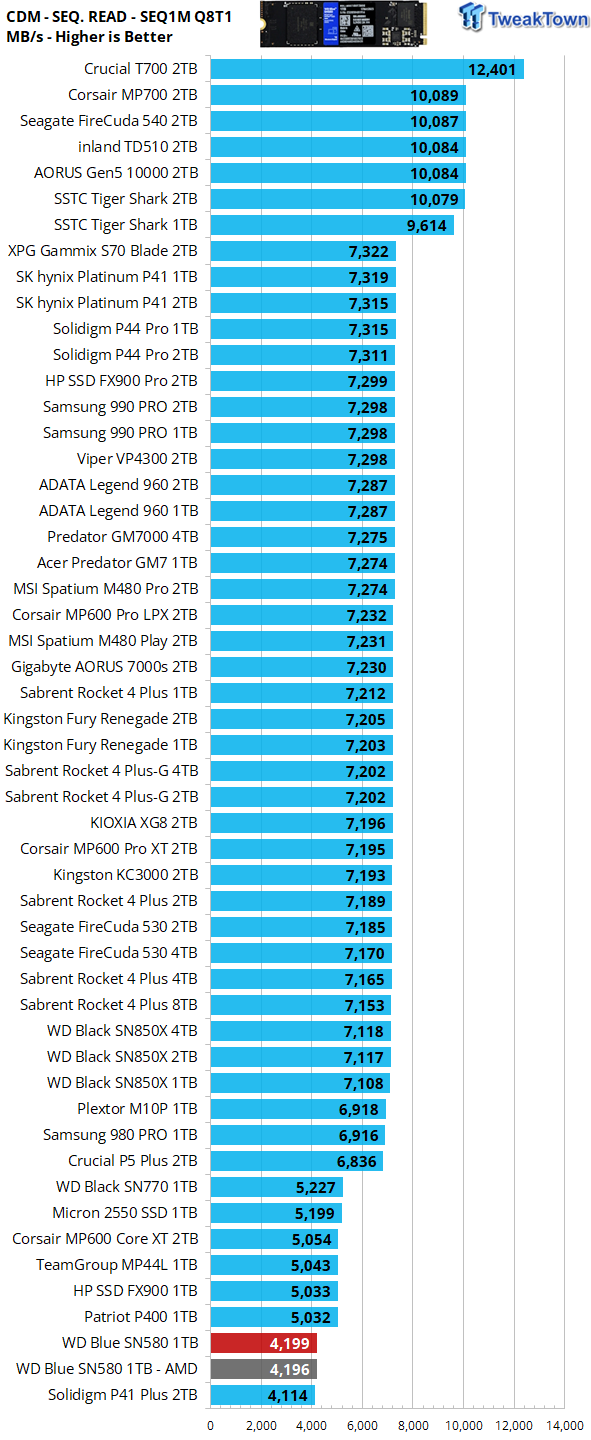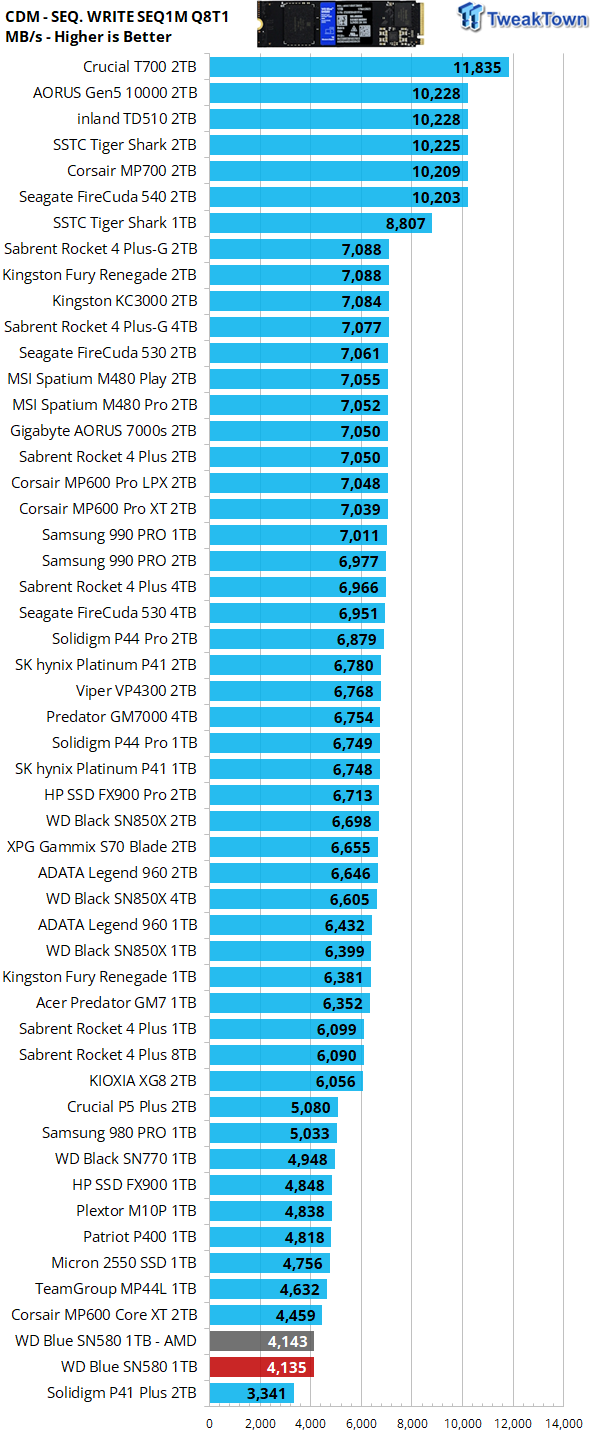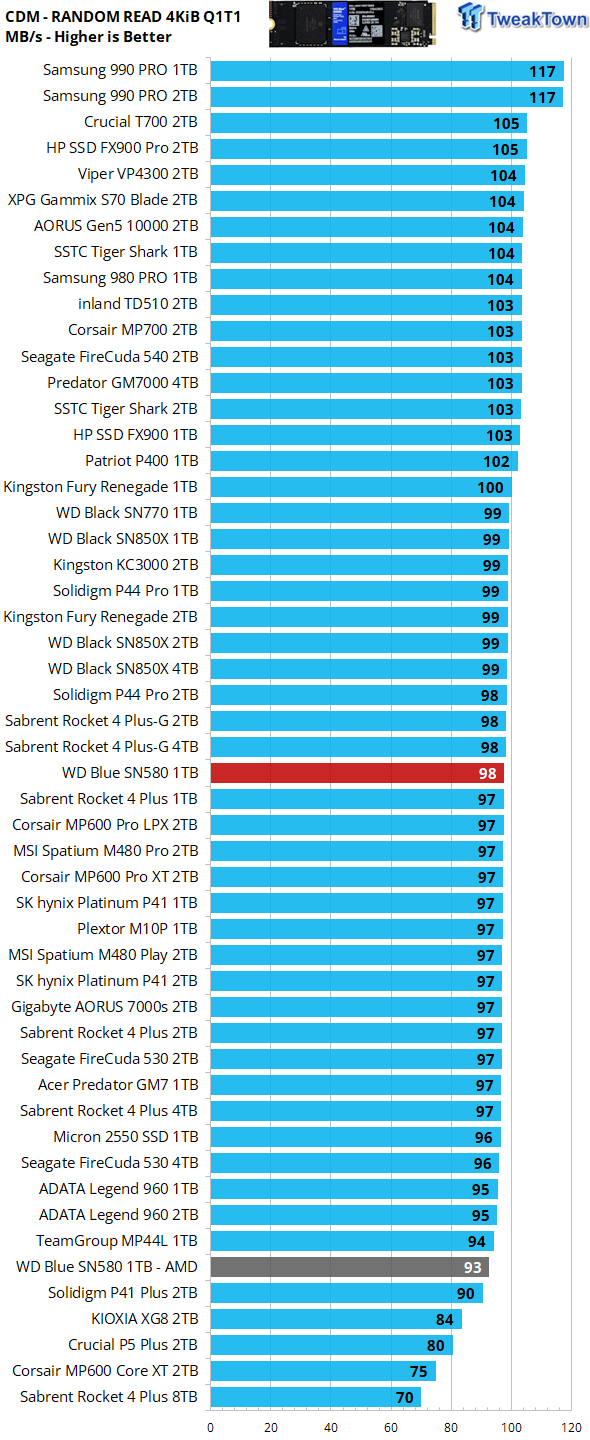 We employ CDM as our standard measurement for both sequential throughput and Q1T1 random read. Western Digital rates its WD Blue SN580 1TB for up to 4,150 MB/s sequential read/write, and that's about what we are getting. But, what we are interested in much more so than sequential throughput is QD1 random read, where we are seeing our first indication that this drive has the potential for exceptional real-world performance.
Anvil's Storage Utilities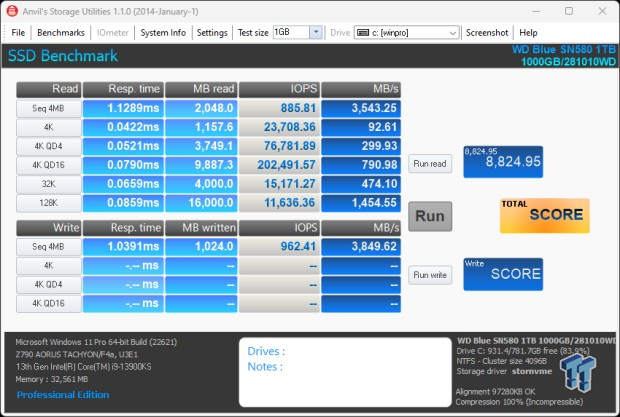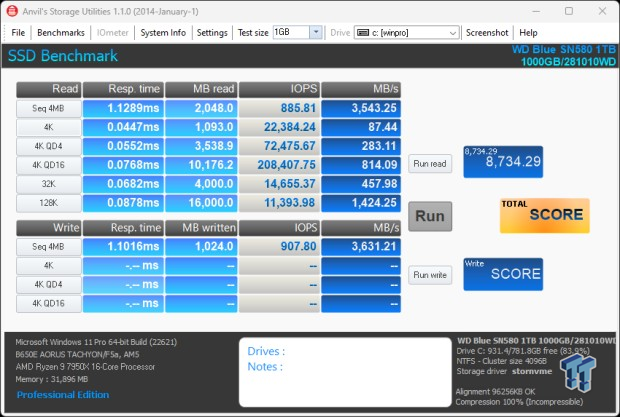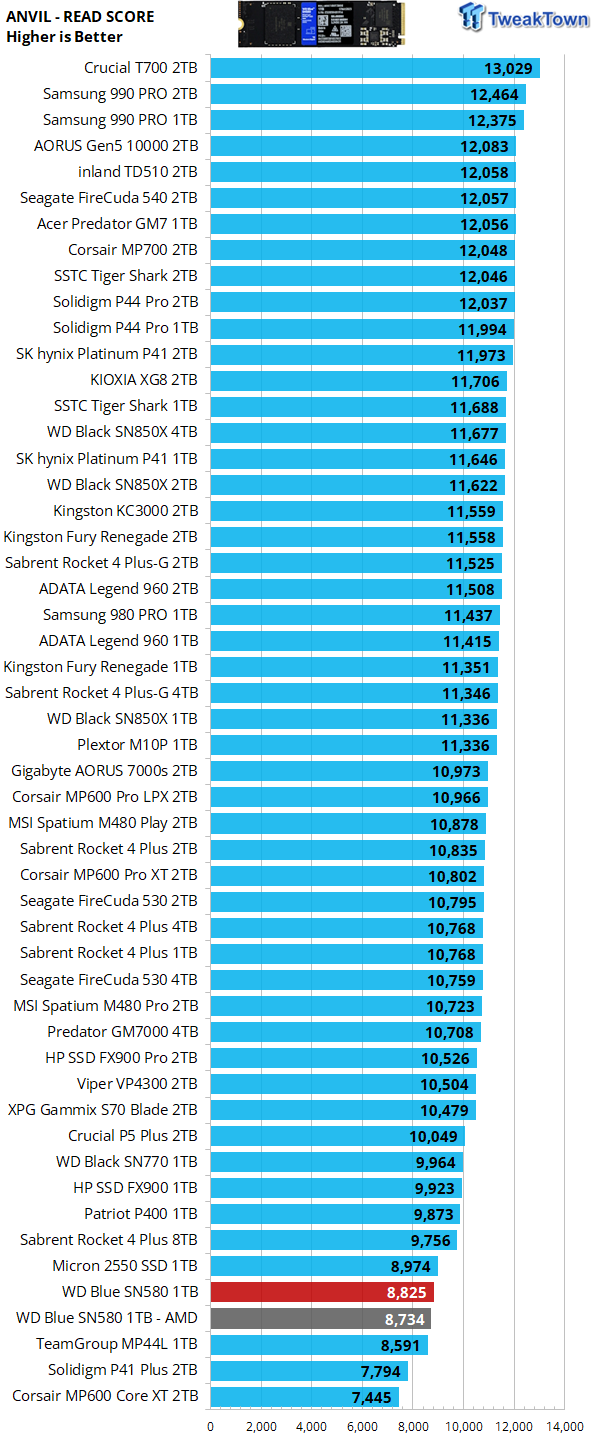 So much of the scoring here is based on sequential throughput that there are instances, such as this instance, where an Anvil's read score is not indicative of real-world performance.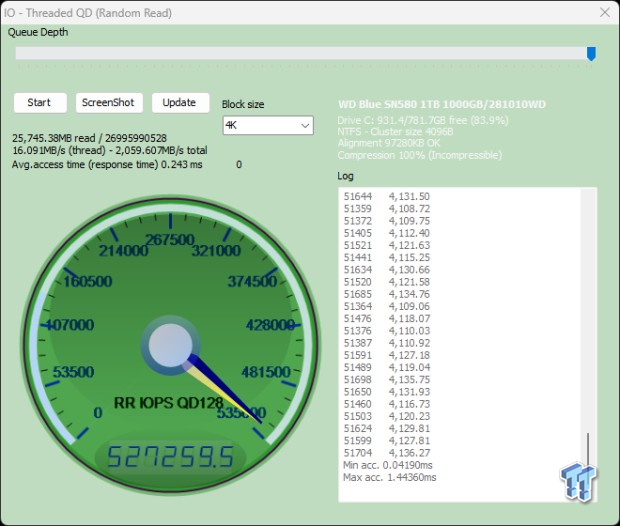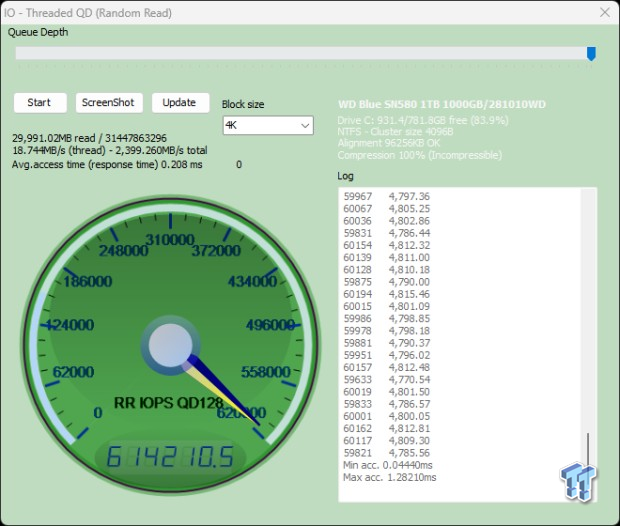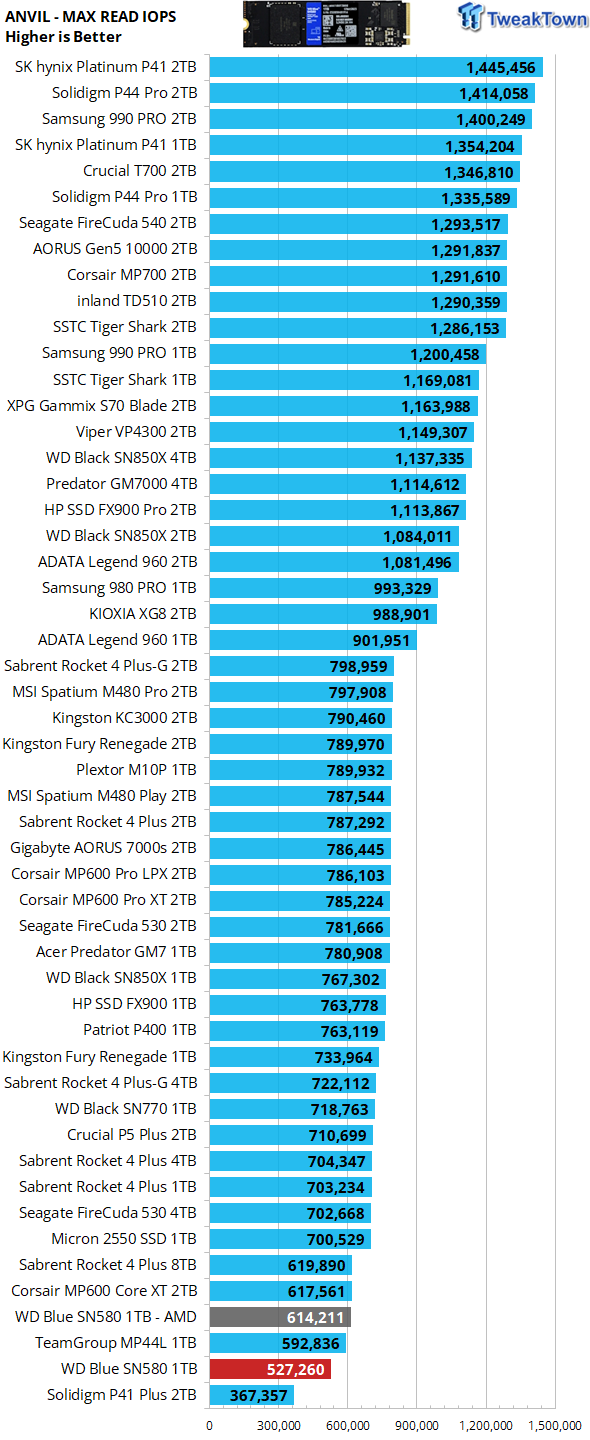 We employ Anvil's random read test as our standard for measuring max random read IOPS. This test is very accurate as it at its core is Iometer skinned over. We test at QD128. WD rates the drive for up to 600K IOPS here when tested as an empty secondary device. So, even if it falls a little short of factory up to specs, results here are more than satisfactory considering our more demanding user state of system disk with 150GB of data onboard.
ATTO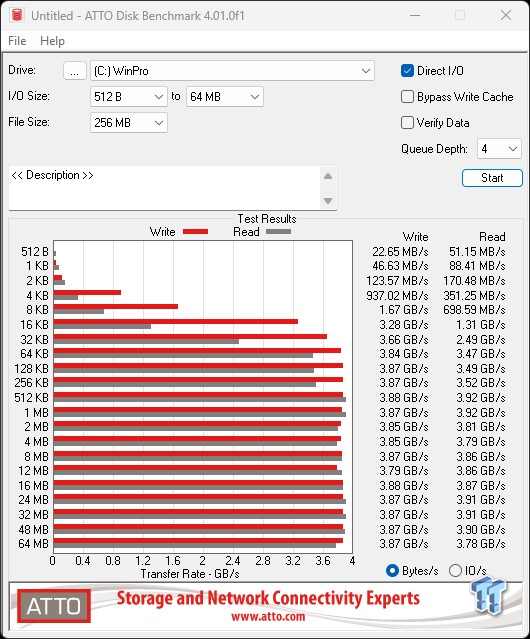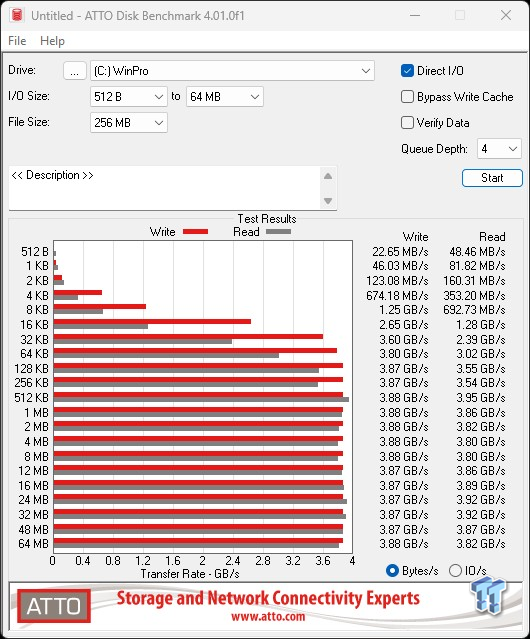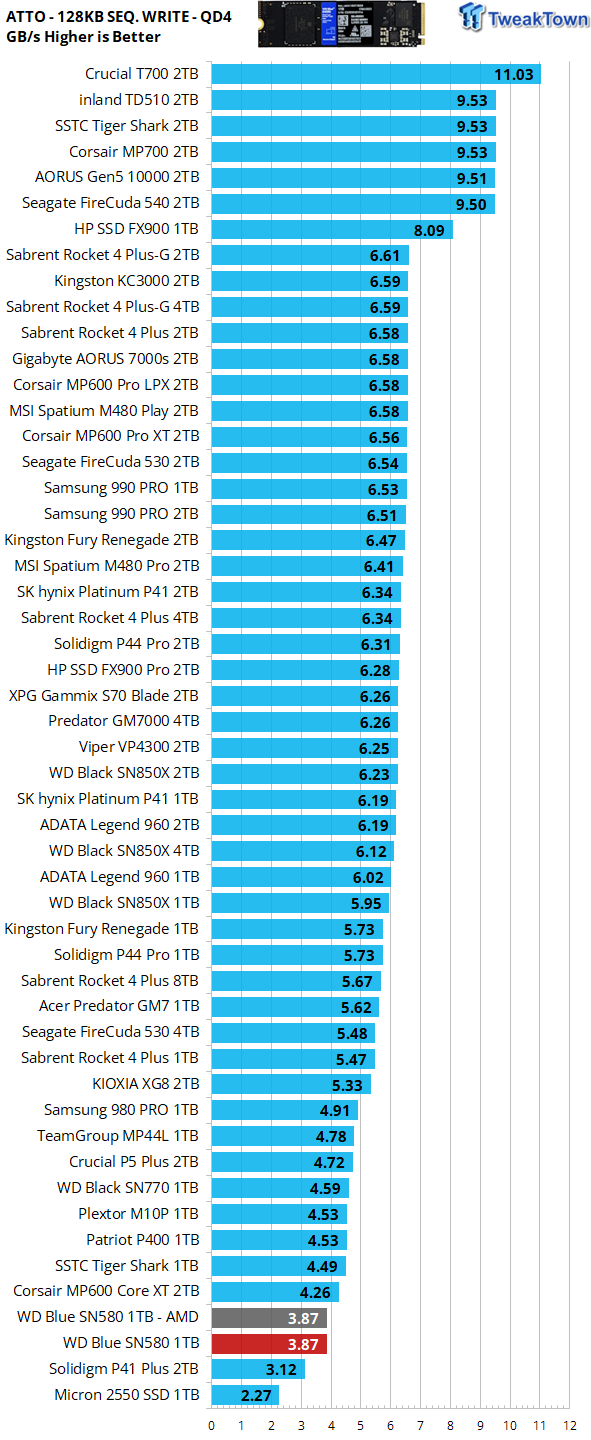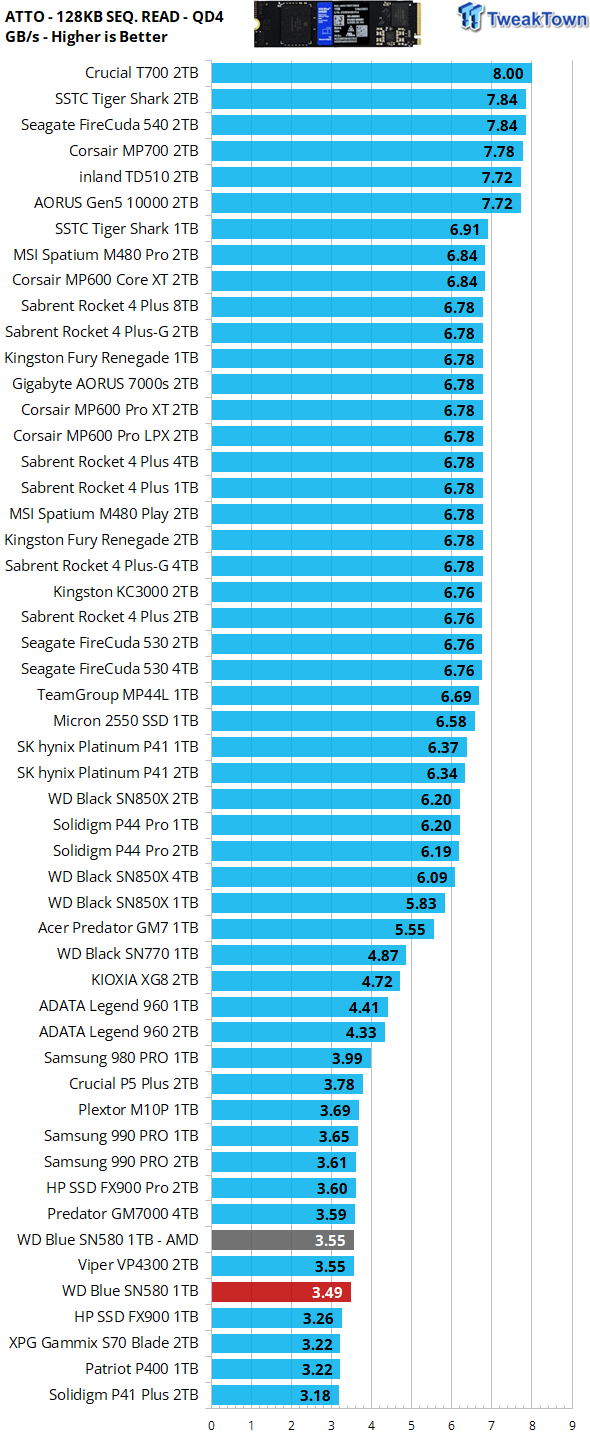 ATTO gives us a clear picture of what transfer sizes a particular SSD favors in terms of sequential throughput. We chart 128K transfers. Our test subject favors sequential transfers of 512KB or larger when serving data to the host (reading) and 128K or larger when programming (writing) data. Full performance at the smallest file size possible is what we are looking for here, and the WD Blue SN580 delivers quite well in this regard.
Real-World Testing: Transfers, 3DMark SSD Gaming Test, PCM10 Storage
Transfer Rates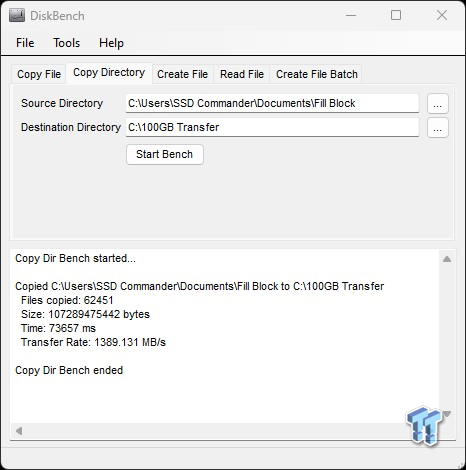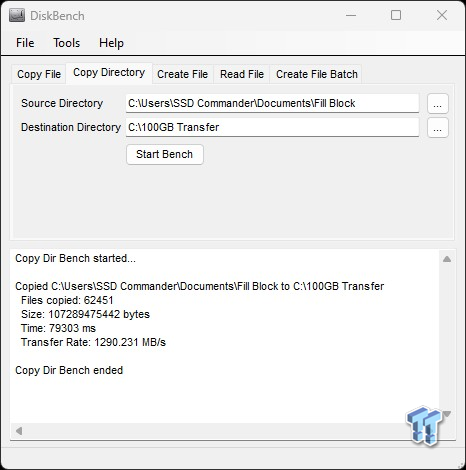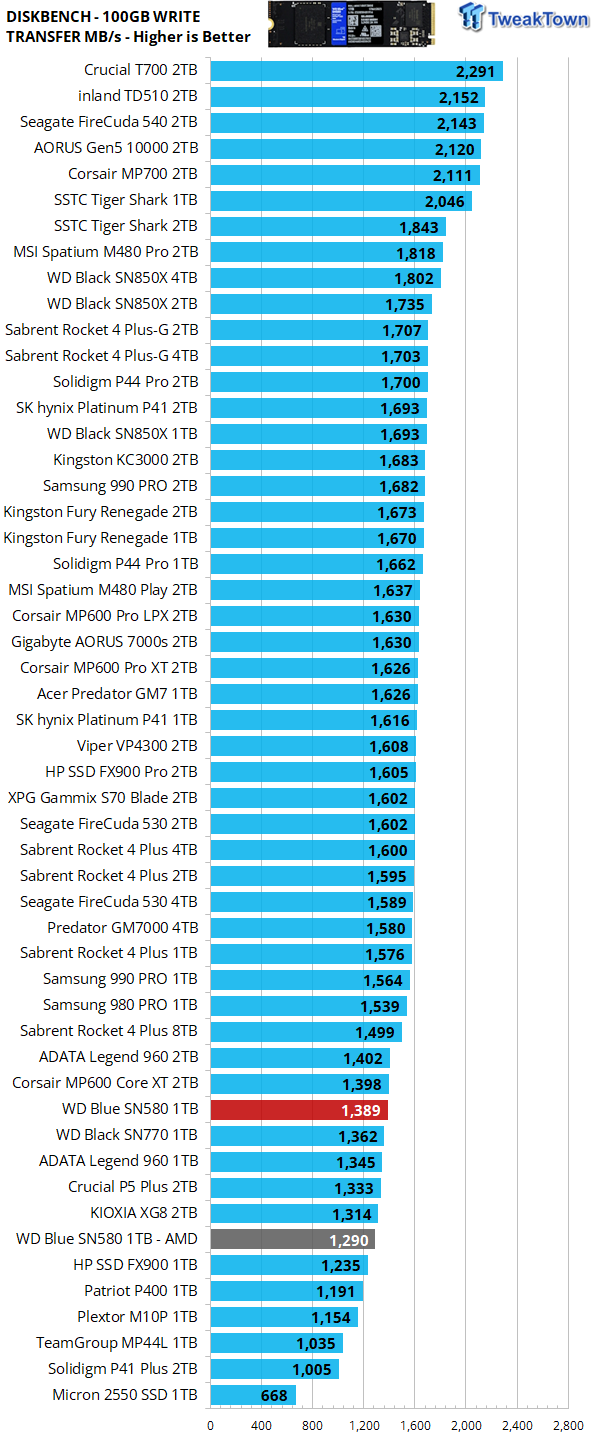 Our 100GB data transfer test is not your ordinary 100GB of data. Ours is a crushing mix composed of more than 62K files. Write performance random or sequential, is an infrequent operation, and as such, we do not consider it to be an important performance metric in the consumer space. An example being how many times is a game installed vs. how many times it's played. Intel has the advantage when writing large blocks of data, and the SN580 delivers an overall excellent result, even besting its faster DRAMless cousin, the aforementioned SN770.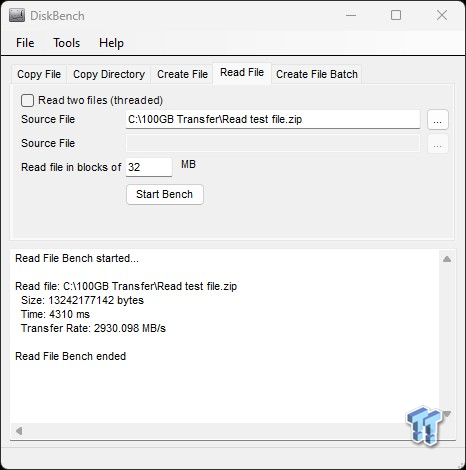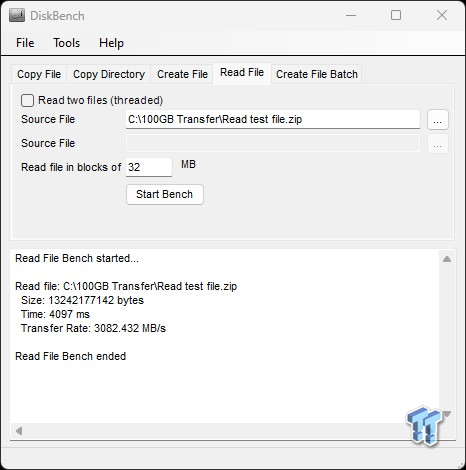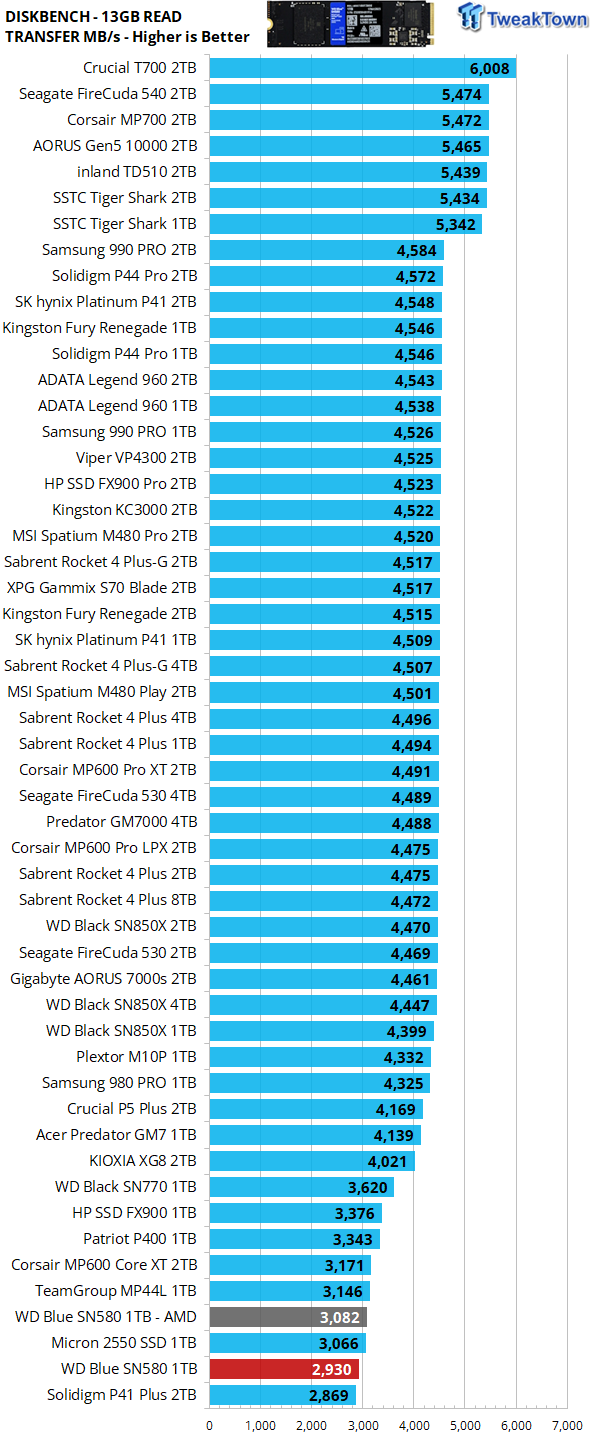 Unlike programming (writing) data, serving data to the host (reading) data is always an important performance metric as it relates to the consumer space. AMD has the advantage here because the transfer is relatively sequential in nature. Nothing to write home about, but still within reason for a 4,000 MB/s class SSD.
Now, let's dive into real-world testing scenarios and see what the WD Blue SN580 1TB is really made of.
3DMark SSD Gaming Test
UL's newest 3DMark SSD Gaming Test is the most comprehensive SSD gaming test ever devised. We consider it superior to testing against games themselves because, as a trace, it is much more consistent than variations that will occur between runs on the actual game itself. This test is in fact the same as running the actual game, just without the inconsistencies inherent to application testing. In short, we believe that this is the world's best way to test an SSDs gaming prowess and accurately compare it against competing SSDs. The 3DMark SSD Gaming Test measures and scores the following:
Loading Battlefield V from launch to the main menu.

Loading Call of Duty Black Ops 4 from launch to the main menu.

Loading Overwatch from launch to the main menu.

Recording a 1080p gameplay video at 60 FPS with OBS (Open Broadcaster Software) while playing Overwatch.

Installing The Outer Worlds from the Epic Games Launcher.

Saving game progress in The Outer Worlds.

Copying the Steam folder for Counter-Strike Global Offensive from an external SSD to the system drive.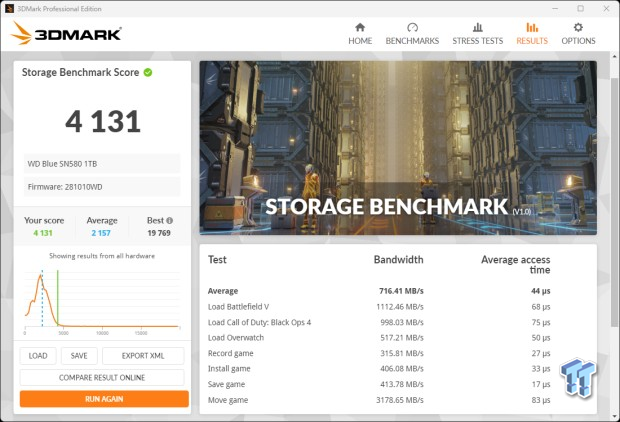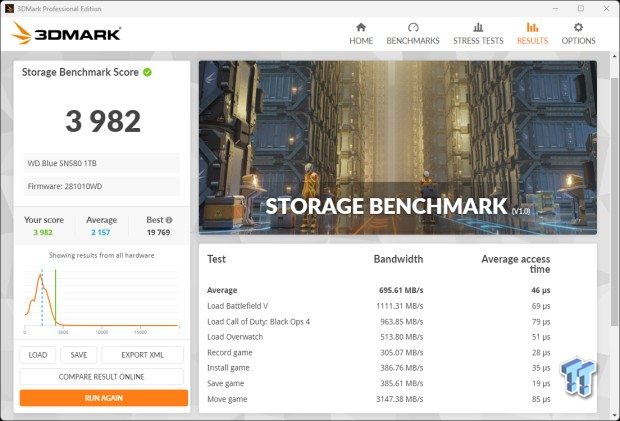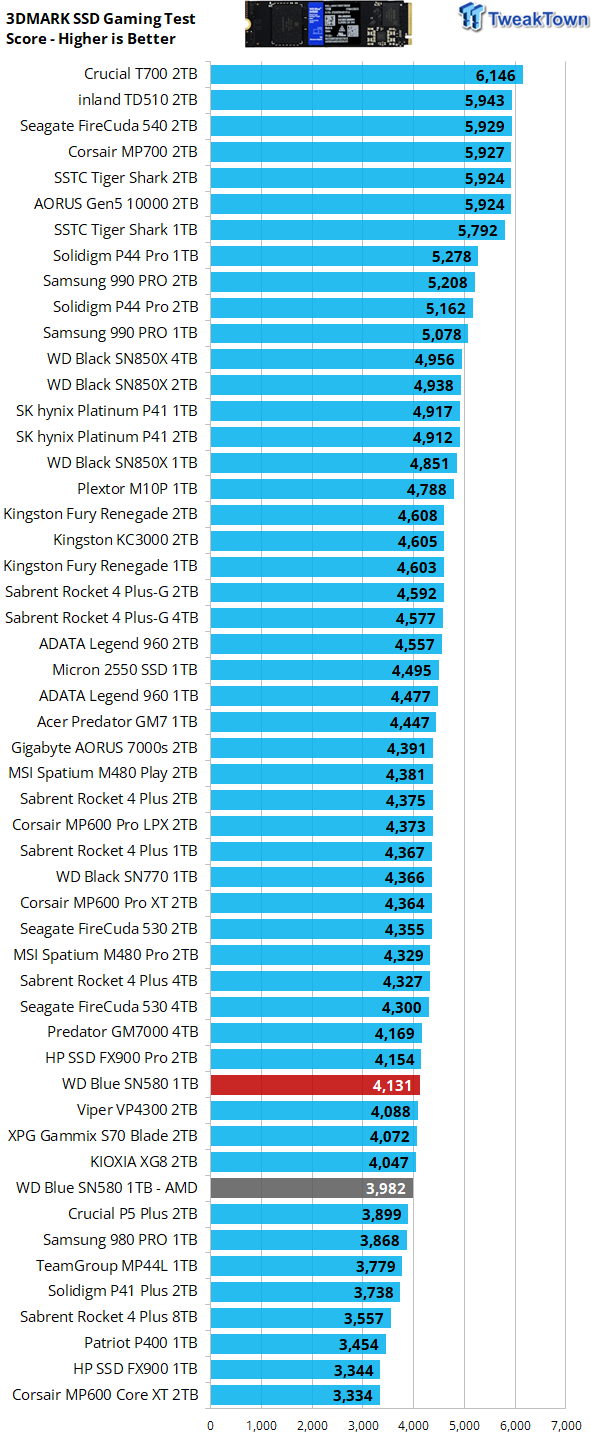 Gaming is a performance metric that matters to the majority of DIY consumers, especially to the enthusiast crowd that TweakTown caters to. This is performance that matters, and as we see it, the SN580 is punching above its weight here, as evidenced by the fact that it is showing itself to be a much better gaming SSD than the 7,000 MB/s capable 980 Pro and even slightly better than the 7,450 MB/s capable VP4300. Excellent.
PCM10 Storage Tests
PCMark 10 Storage Test is the most advanced and most accurate real-world consumer storage test ever made. There are four different tests you can choose from; we run two of them. The Full System Drive Benchmark and the Quick System Drive Benchmark. The Full System Drive Benchmark writes 204 GB of data over the duration of the test. The Quick System Drive Benchmark writes 23 GB of data over the duration of the test. These tests directly correlate with mainstream user experience.
PCMark 10 Full System Drive Benchmark
This particular test writes 204GB data and covers a broad range of common consumer tasks, including booting Windows 10, file transfers, Adobe and Office applications, and startup times for games, including Battlefield V, COD Black Ops 4, and Overwatch. Unlike synthetic numbers, this is comprehensive real-world data which is why we use it to rank SSDs in terms of user experience.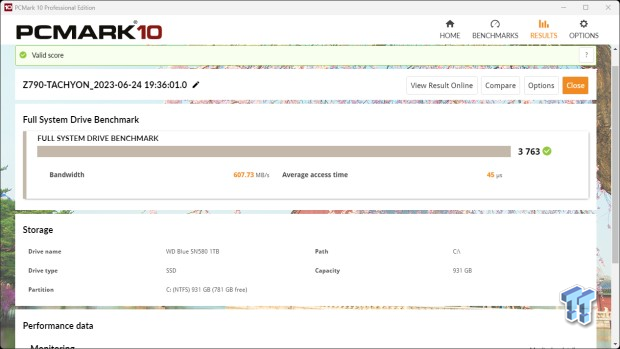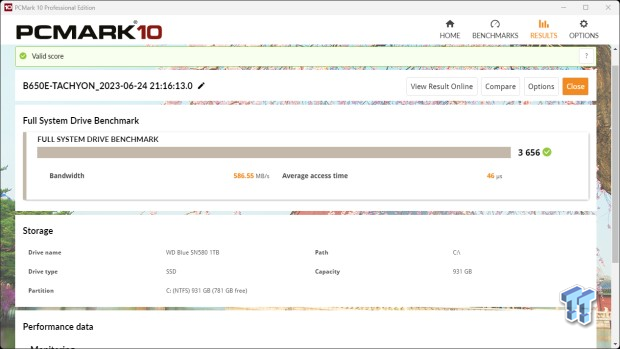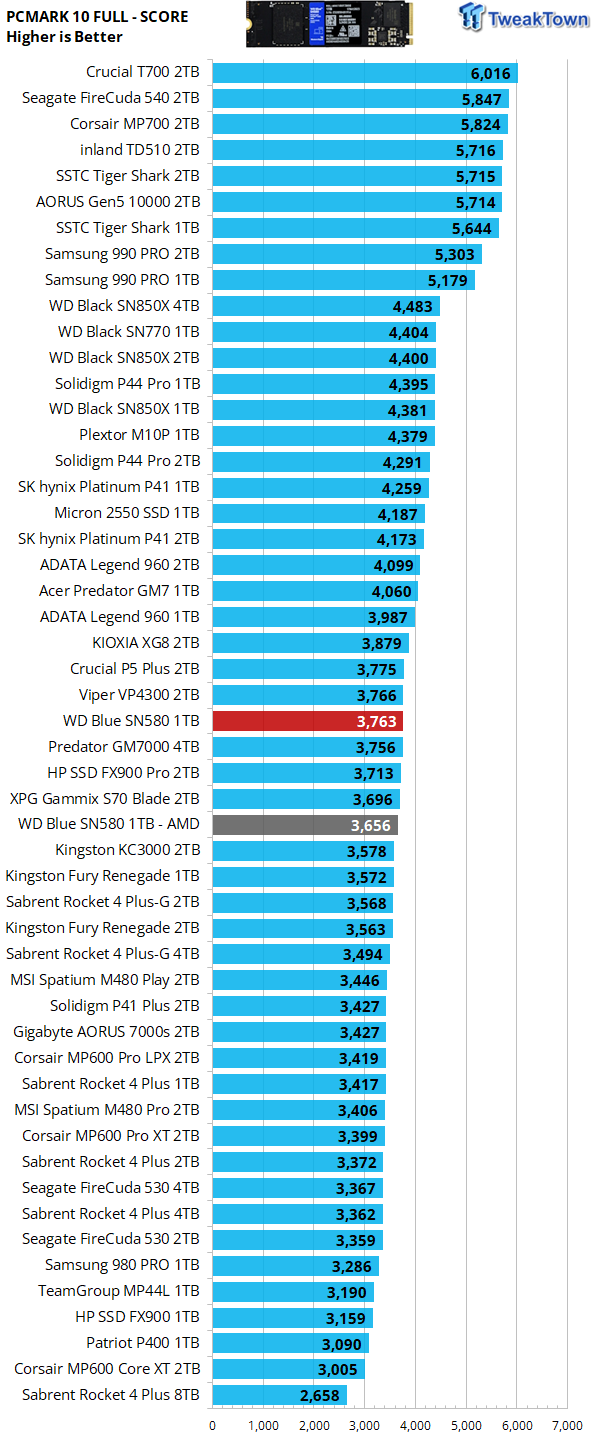 Again, punching well above its weight, our contender easily outperforms every E18-controlled SSD on our chart and edges out all but two IG5236-controlled SSDs capable of up to 7,450 MB/s sequential throughput. Outstanding. This is performance that matters.
PCMark 10 Quick System Drive Benchmark
The Quick System Drive Benchmark writes 23 GB of data over the duration of the test.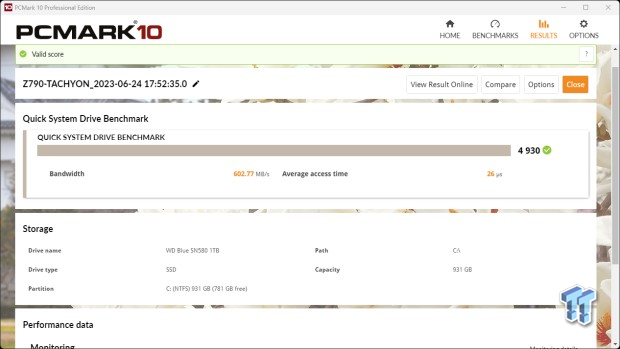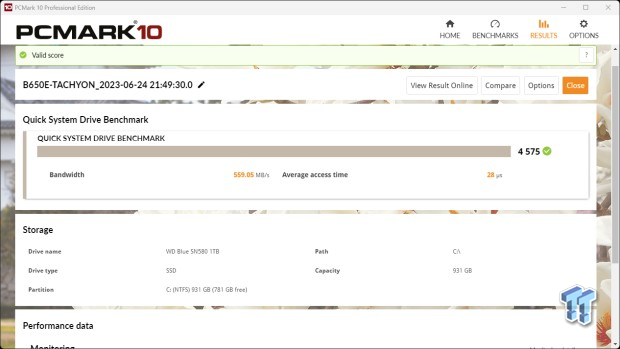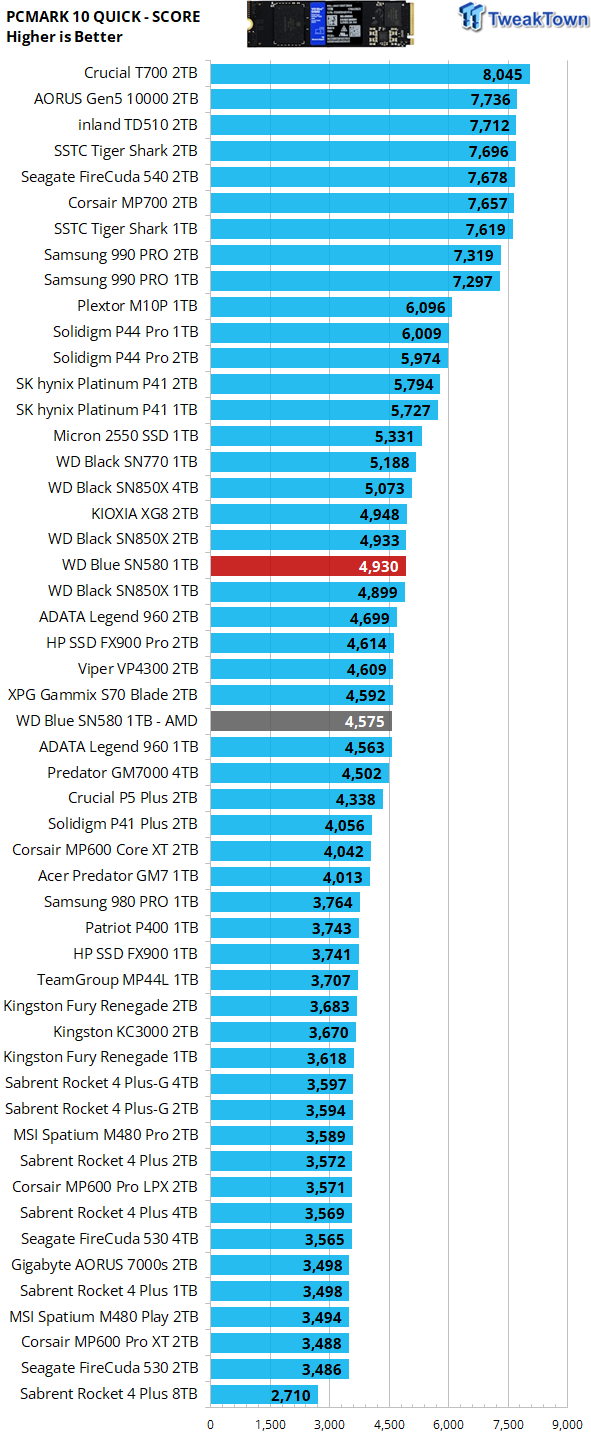 As impressive as the previous results are, this is even more impressive as here we find our test subject beating not only all the E18-controlled SSDs, and all but one IG5236-controlled SSD (Plextor's M10P). It even manages to outdo the SM2264 controlled 960 Legend. Talk about punching above its weight, where performance matters most. Wow.
Final Thoughts
Even though we had a pretty good inclination that a new DRAMless SSD from Western Digital would likely deliver head-turning real-world performance, we are still somewhat surprised that something from the WD Blue line of SSDs performs as well as our test subject does. In fact, of all the retail flash-based DRAMless SSDs we've ever tested, the WD Blue SN580 1TB is overall the second-best performing, only bested by its slightly better-performing cousin, the WD Black SN770 1TB.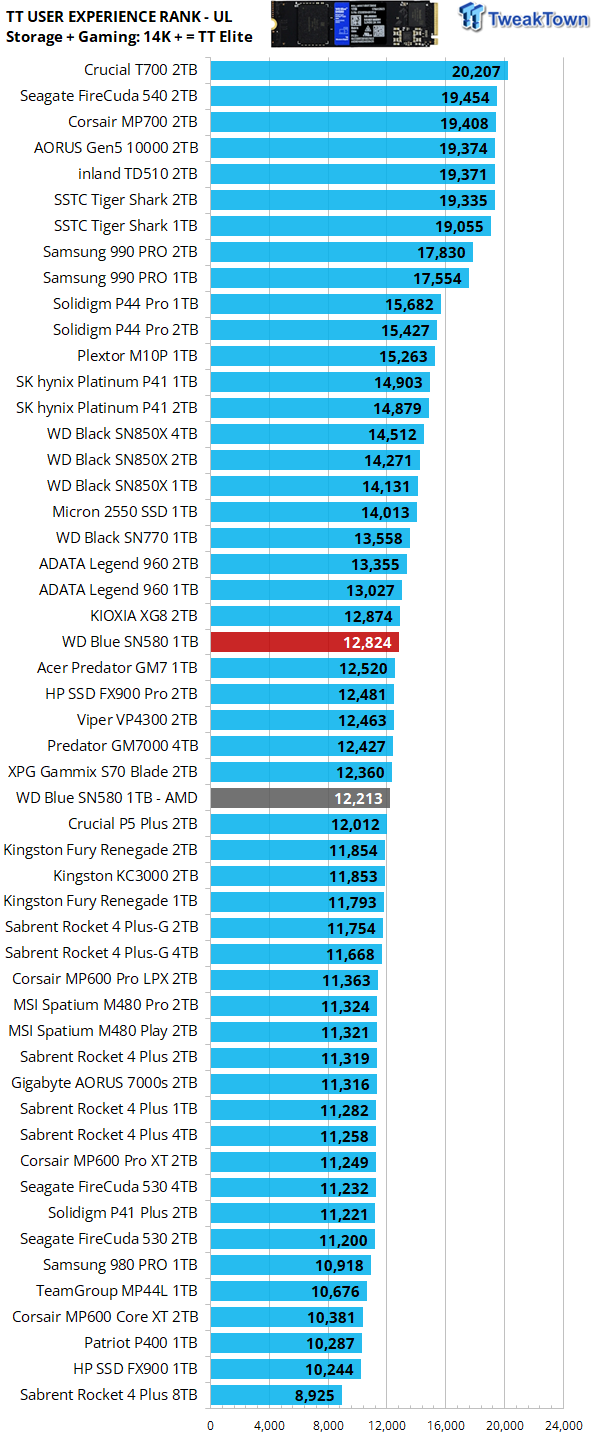 We rank SSDs in terms of overall user experience (performance where it matters most) as expressed by PCMark 10 storage and 3DMark gaming storage tests. We consider a user experience score of 14K or more to verify an SSD as a TweakTown Elite performer. Look at that, would you? Look at the host of 7,400 MB/s class SSDs that this $50 SSD outperforms. And it's doing so with half the channels, no DRAM, and only one flash package.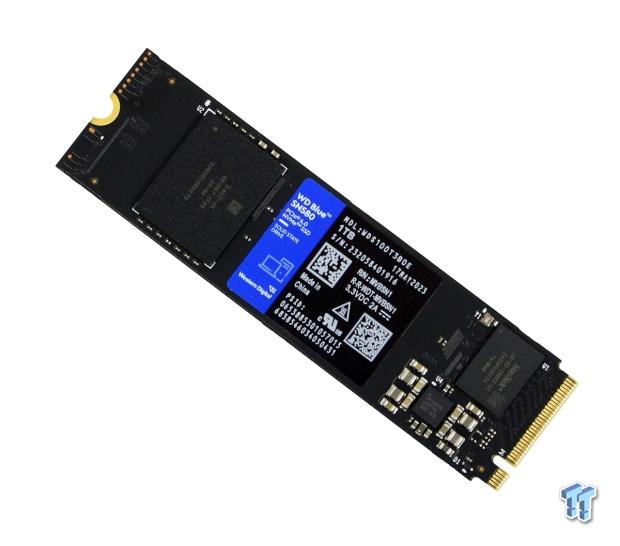 Western Digital's WD Blue SN580 1TB, is, as we see it, overall the best-performing SSD at MSRP we've ever tested. MSRP is $49.99 for 1TB, and based on current trends, we expect it to go even lower, maybe even as low as $39.99, if trends continue as they are now. The WD Blue SN580 is the perfect value SSD, and as such, we are compelled to honor it with our highest award. Editor's Choice.